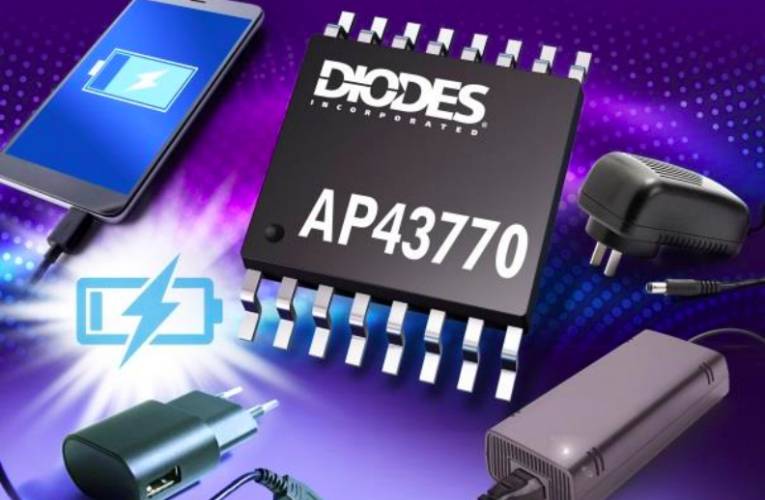 Diodes Incorporated announced release of AP43770 USB Type-C power delivery (PD) controller is a highly integrated solution for implementing PD over USB in fixed and portable devices, and offline power adapters. The AP43770 offers an embedded microcontroller running firmware compliant with the latest USB Type-C specification and USB PD Revision 3.0 V1.1. Along with this, the controller also support Qualcomm Quick Charge (QC) 4/4+ which is built into the device. The backwards compatibility is maintained with existing equipment by inclusion of QC3.0, QC2.0, and Battery Charging (BC) revision 1.2 and other legacy protocols with auto-detection.
The AP43770 features USB eMarker applied to active cables because of its potential to deliver high levels of power. The AP43770 comes with necessary support for eMarker technology, in order to detect and identify cables before power is delivered along the support for cable compensation. The USB PD offers 8kb OTP(for main firmware code)  or MTP(for user configurable parameters) memory feature for manufacturers requirements to set up power specification and protocol options. The AP43770 can be used in AC Adapters, Car Chargers, USB PD Converter, Power Hubs, Power Banks.
Features of AP43770 are:
Support VOUT 20mV/Step from 3V to 20V
Support Current Limit 50mA/Step up to 6A
USB PD Transceiver with High Noise Immunity
Support OCP/SCP/OTP/UVP with Auto-Restart
Built-In 5V/1.8V LDO
Low Standby Current : 550μA
Maximum 32V Input Voltage Rating
The controller comes in a TSSOP-16 package and is totally Lead-Free, fully RoHS Compliant, Halogen and Antimony Free.
The AP43770 USB Type-C power delivery(PD) controller is available now at Diodes.