ROHM has recently announced the availability of the BD9S series of automotive synchronous secondary buck DC/DC converters which includes BD9S400MUF-C, BD9S300MUF-C, BD9S200MUF-C, BD9S100NUX-C and BD9S000NUX-C. The DC/DC converters have a high reliability and low power consumption in a compact form factor with a temperature range of -40 to +125 degree. The products are offered in a leadless package with wettable flanks, which makes them suitable for using them in applications like radars, cameras and sensors which can be used for assisted driving.
The growing demand for safety requires the adoption of accident prevention systems and the evolution of self-driving cars. This in turn requires a higher number of subsystems including sensors and camera modules, which results in higher power consumption. At the same time, it is necessary to decrease the component size and quantities to reduce vehicle weight.
To address these challenges, ROHM introduce the BD9S series which is comprised of a very compact, highly efficiency automotive-grade power supply ICs that include an enable function to adjust the startup time and a PGOOD output indication to improve system functional safety. This broad lineup of products supports output currents from 0.6 to 4.0A. It is offered in the 2 and 3mm 2 space-saving packages that deliver high efficient operation, resulting in a best-in-class power conversion efficiency of 90% (at 3.6V input/1.8V output). Moreover, the current mode control ensures fast response to load transients and combined with a fixed 2.2MHz switching frequency, it prevents interference in the AM Band. This higher frequency allows use of smaller external components, which contributes to a higher degree of miniaturization and power savings.
Key Features
1. Enable control and Output voltage indicator to improve system reliability
These IC's includes an enable function to adjust the startup time and a built-in output (Power Good function) indicating correct output voltage has been achieved.
2. Class-leading miniaturization and efficiency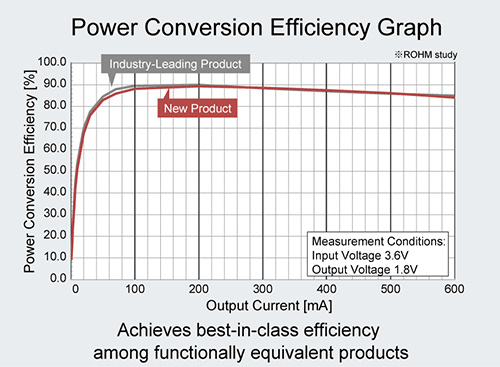 For automotive-grade secondary buck DC/DC converters requiring greater miniaturization and high performance operation, a class-leading 2mm2 size with full synchronous operation is offered, while the optimized design ensures the best-in-class* power conversion efficiency among functionally equivalent products (90% at 3.6V input/1.8V output).
The current mode control loop with fixed 2.2MHz frequency fluctuations, makes it possible to reduce the size of peripheral components and eliminate interference from the AM radio band. A dedicated light load mode improves efficiency in the lower current load region. The result is higher miniaturization and power savings in safe driving support modules.
3. Broad lineup includes output currents up to 4.0A
ROHM offers ultra-compact models in output currents ranging from 0.6A to 4.0A. This contributes to model optimization and supports sudden system flexibility and choice.
Part No.

Input Voltage Range

Output Voltage

Max. Output Current

Output Voltage Precision

Operating Frequency

Operating Temperature

Package

BD9S400MUF-C

2.7V to 5.5V

0.8V to 0.8* VIN

4.0A

,±1.5%

2.2MHz ± 0.2MHz

-40°C to 125°C

VQFN16FV3030
(3.0 x 3.0 x 1.0mm)

BD9S300MUF-C

3.0A

BD9S200MUF-C

2.0A

BD9S100NUX-C

0.8V to VIN

1.0A

VSON008X2020
(2.0 x 2.0 x 0.6mm)

BD9S000NUX-C

0.6A

BD9S110NUX-C**

1.2V

1.0A

BD9S111NUX-C**

1.8V

1.0A
Application Examples
ADAS sensors, cameras, and radars
Drive recorders
Other automotive applications requiring high efficiency, superior reliability, and greater compactness