Published
September 28, 2023
0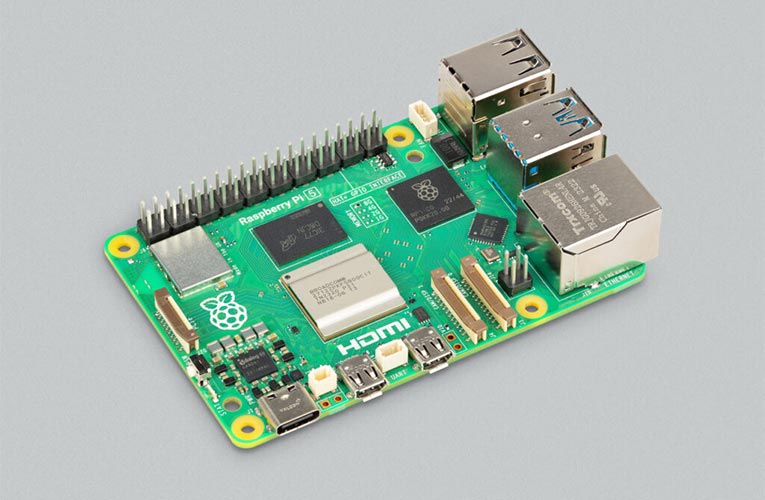 After a long wait of over 4 years Raspberry Pi Foundation announced the new Raspberry Pi 5. The Raspberry Pi 5 features a number of upgrades over its predecessor, including a new and faster processor, the new in house developed RP1 Southbridge, and better connectivity. While the Pi 5 still features the same footprint as its predecessor, it is much faster than the Pi 4. When compared to Raspberry Pi 4, the new Raspberry Pi 5 offers around two to 3 times the CPU and GPU performance and around twice the memory and I/O bandwidth.
The heart of the Pi 5 is the new BCM2712, 16 nanometer SoC from Broadcom.  The BCM2712 features a quad-core 64-bit Arm Cortex-A76 processor, clocked at 2.4GHz, with 512KB per-core L2 caches, and a 2MB shared L3 cache. Cortex-A76 is three microarchitectural generations beyond Cortex-A72 and offers both more instructions per clock (IPC) and lower energy per instruction. The new combination of this new core with a higher clock speed along with a smaller process geometry makes the Pi 5 much faster while only consuming much less power.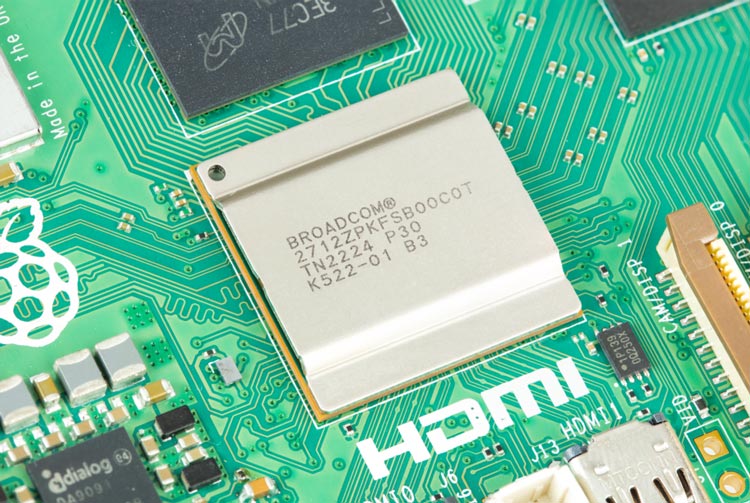 The BCM2712 features a new and faster VideoCore VII GPU with fully open-source Mesa drivers. It features an updated VideoCore hardware video scaler (HVS) is capable of driving two simultaneous 4Kp60 HDMI displays, up from single 4Kp60 or dual 4Kp30 on Raspberry Pi 4. The multimedia subsystem also features, in house developed 4Kp60 HEVC decoder and a new Image Sensor Pipeline (ISP). The Pi 5 uses a 32-bit LPDDR4, running at 4267MT/s, which is more than twice the performance of Pi 4 which was running only at 2000MT/s.
Another major feature of Raspberry Pi 5 is the new RP1 south bridge chip, designed by the same team at Raspberry Pi that delivered the RP2040 microcontroller and implemented on TSMC's 40LP process node. The RP1 provides two USB 3.0 and two USB 2.0 interfaces along with a Gigabit Ethernet controller, two 4 lane MIPI transceivers for DSI and CSI, analog video output, 3.3V GPIOs, and the usual collection of GPIO-multiplexed low-speed interfaces (UART, SPI, I2C, I2S, and PWM). The Pi 5 also features a PCI 2.0 interface provides a 16Gb/s link directly to the BCM2712 SoC, but to use this we will need some kind of adapter. The Pi 5 also features on board power button and an RTC with option.
The Raspberry Pi 5 will be available to buy in October, priced at $60 for the 4GB and $80 for the 8GB models respectively; no details have been released regarding other models at this time, including a potential Raspberry Pi 500 all-in-one built around the same BCM2712.
Here is the full specification for the Raspberry Pi 5.
Broadcom BCM2712 2.4GHz quad-core 64-bit Arm Cortex-A76 CPU, with cryptography extensions, 512KB per-core L2 caches and a 2MB shared L3 cache
VideoCore VII GPU, supporting OpenGL ES 3.1, Vulkan 1.2
Dual 4Kp60 HDMI display output with HDR support
4Kp60 HEVC decoder
LPDDR4X-4267 SDRAM (4GB and 8GB SKUs available at launch)
Dual-band 802.11ac Wi-Fi
Bluetooth 5.0 / Bluetooth Low Energy (BLE)
microSD card slot, with support for high-speed SDR104 mode
2 × USB 3.0 ports, supporting simultaneous 5Gbps operation.
2 × USB 2.0 ports
Gigabit Ethernet, with PoE+ support (requires separate PoE+ HAT)
2 × 4-lane MIPI camera/display transceivers
PCIe 2.0 x1 interface for fast peripherals (requires separate M.2 HAT or other adapter)
5V/5A DC power via USB-C, with Power Delivery support
Raspberry Pi standard 40-pin header
Real-time clock (RTC), powered from external battery.
Power button