Published
October 17, 2018
0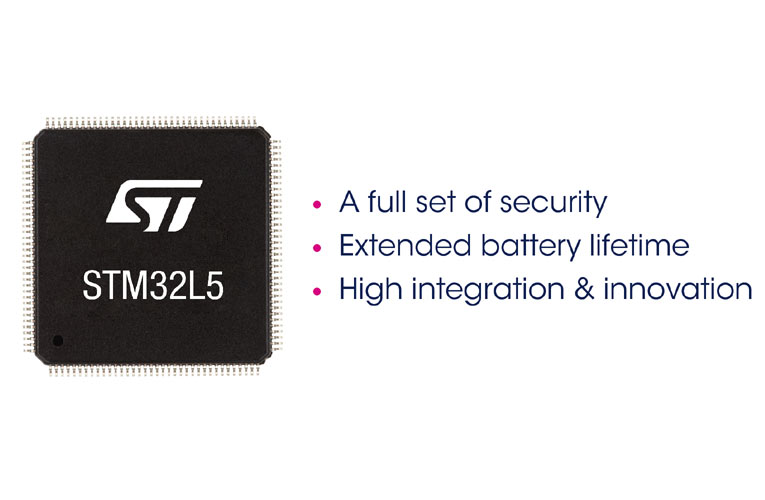 STMicroelectronics released a new STM32L5 microcontroller series featuring the ARM Cortex-M33 core, with focus on bringing sophisticated cyber-protection to power-conscious connected devices.
The ARM Cortex-M33, which boosts protection for small devices by integrating Arm's TrustZone® hardware-based security, is used in the new STM32L5-series MCUs to add further enhancements including flexible software isolation, secure boot, key storage, and hardware cryptographic accelerators. In addition, these MCUs also provide rich functionality, high performance, and long run-times powered by coin cells or energy harvesting. Consuming as little as 33nA in shutdown mode and achieving 402 ULPMark-CP in the EEMBC ULPBench, the new MCU uses low-power techniques such as adaptive voltage scaling, real-time acceleration, power gating, and multiple reduced-power operating modes proven in previous STM32L series.
"The STM32L5 series with TrustZone and additional custom protection features considerably strengthens and hardens cyber-protection for small IoT devices," said Ricardo De Sa Earp, Microcontroller Division General Manager, STMicroelectronics. "Also featuring our unique energy-saving technologies, rich connectivity, and smart digital and analog peripherals, these devices will be the first choice to host cutting-edge connected applications."
As STM32L5 MCUs come with extensive integrated digital and analog peripherals, and consumer and industrial interfaces such as CAN FD, USB Type-C™, and USB Power Delivery, they are well suited for products such as industrial sensors or controls, home-automation devices, smart meters, fitness trackers, smart watches, medical pumps or meters, and many others.
STM32L5-series microcontrollers are sampling now and scheduled to begin production in Q2 2019.