Published
July 27, 2020
0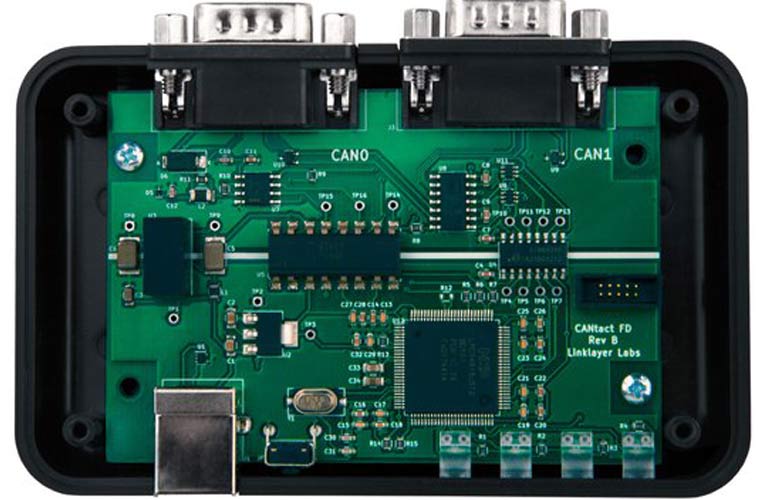 Linklayer Labs has recently launched an open-source USB CAN tool that lets users debug or hack vehicle components. CAN (Controller Area Network) is a serial communication bus that enables microcontrollers and various components like the dashboard, ABS, air conditioner, and other sensors to communicate with each other without a host computer. Named CANTact Pro, the tool helps in improving the original CANtact hardware by adding an extra CAN bus, support for CAN-FD and single-wire CAN (used in most GM vehicles), high-speed USB, and electrical isolation. The durable case makes it ideal for bench-top and garage environments.
The CANTact Pro works with Windows, MacOS, and Linux with USB drivers, command-line interface, and Python, C/C++, and Rust APIs available for all three operating systems. On Linux, SocketCAN can be used with many existing programs. On Windows, ETAS BUSMASTER is supported. It is the second USB to CAN devices from Linklayer Labs and adds one extra CAN interface, support for CAN FD and SWCAN, as well as USB / CAN isolation compared to the original CANTact device.
Key features and Specifications
2x CAN Interfaces (CAN/CAN-FD/SWCAN and CAN/CAN-FD)
High-Speed USB interface (480 Mbit/s)
Isolation between CAN and USB
Industry-standard DB9 connectors
Software support for Windows, macOS, and Linux
Cross-platform USB driver, command-line interface, and APIs - Python via python-can, C / C++, Rust.
ETAS BUSMASTER support on Windows
SocketCAN support on Linux
The product designing is complete, working prototypes are being tested, the devices are already assembled, and the risks of hardware development have already been mitigated. The campaign price is USD 129 and the retail price will be USD 149.