Published
July 18, 2022
0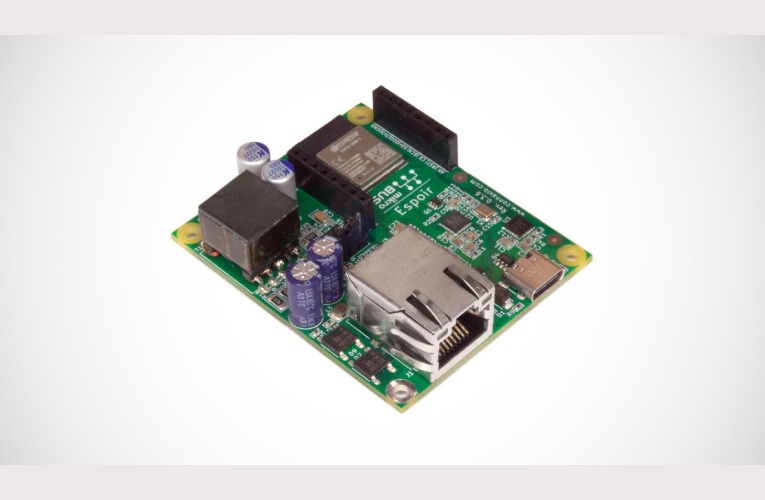 Espoir from Connaxio is a fully compliant Power over Ethernet+ (PoE+ 802.3af/at) ESP32-based devboard that provides up to 15 Watts of power to your application at 5 V and 3.3 V. Four full copper layers give the board enhanced electromagnetic compatibility and thermal dissipation. Its PI-filtered power input and outputs give an excellent analog performance. Moreover, its modern USB-C connector helps get rid of old standards.
Espoir owns high connectivity with 16 IOs, Wi-Fi, Bluetooth, USB-C, and 100 Base-T Ethernet. Its form factor and mikroBUS header can easily accommodate over a thousand existing add-on boards. Originated from a market-gardening automation project, it is designed with outdoor use in mind, handling servo motors, relays, valves, and all kinds of sensors.
Features & Specifications
Single OR dual core 240 MHz
4 MB Flash @ 80 MHz
520 KB SRAM
Input: 37 V - 57 V PoE through the Ethernet connector. 2,250 V isolation
Input: 5 V through the USB-C connector (4.6 V available through a protection diode)
100Base-T Ethernet (80+ mbps UDP throughput)
Wi-Fi 2.4 GHz 802.11b/g/n with integrated antenna
Bluetooth 4.2 BLE
USB 2.0 via USB-C connector
Full mikroBUS™ socket with two grounds, 5 V, 3.3 V and 12 IOs
Weight: 31 g
Size: 50.8 x 61.0 mm (2.0 x 2.4 in)
It can be used to make ordinary devices smart and complete home automation. Turn it into a Wi-Fi access point to expand your network, it can be used for smart lighting, access control and motion detection, assembly line tracking, item scanning and even audio applications.