Published
August 2, 2022
0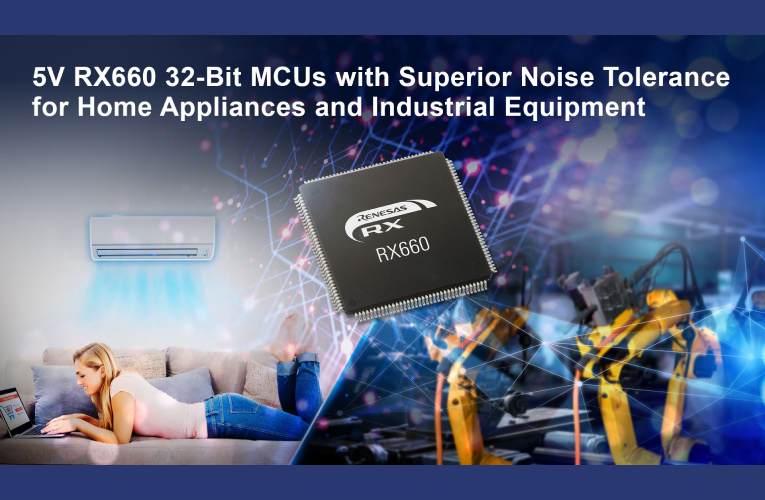 Renesas Electronics Corporation has announced the new RX660 group of microcontrollers (MCUs) that is a new addition to the RX 32-bit MCU Family and supports operating voltages of up to 5V, offering superior noise tolerance for home appliances and industrial equipment exposed to high electromagnetic interference. The high operating voltages of these new RX660 MCUs eliminate the need for external noise-suppression components that are required for many 3V MCUs.
The company developed the RX660 using its RXv3 core (6.00 CoreMark/MHz) with a maximum operating frequency of 120 MHz, offering high performance and excellent power efficiency. These devices feature large-capacity ROM of up to 1 megabyte (MB) and RAM of up to 128 kilobytes (KB) and are available in many package options (48-pin to 144-pin). In particular, the effective pin count for general-purpose I/O pins is 10% higher than on the earlier RX210, which is also 5V compatible.
Key Features
32-bit RXv3 CPU core
Low-power design and architecture
On-chip code flash memory
On-chip data flash memory
On-chip SRAM
External address space
Reset and supply management
Useful functions for IEC60730 compliance
Various communications interfaces
Up to 19 extended-function timers
12-bit A/D converter
Temperature sensor for measuring temperature within the chip
Up to 134 pins for general I/O ports
Two development boards are available for the RX660 group for both prototyping and detailed evaluation. Target Board for RX660 is an inexpensive prototyping board that enables users to easily transform their ideas into working hardware and software. The RX660 MCUs and development boards are now available.