Published
June 25, 2021
0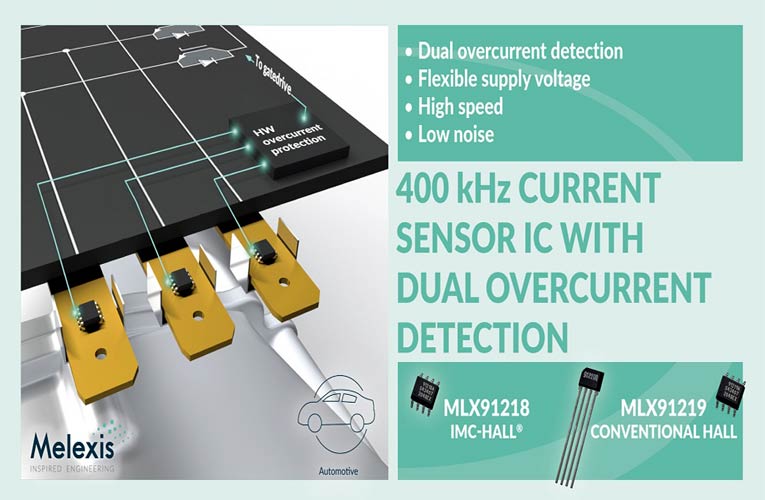 The MLX91218 and MLX91219 from Melexis are the next-generation high-precision IMC-Hall 400 kHz current sensor ICs that simplify module designs with a dual OverCurrent Detection (OCD) functionality, a flexible supply 3.3V/5V, and an improved SNR in automotive power-conversion applications.
Available in a single inline (SIP) 4-pin package, the MLX91219 current sensor uses a ferromagnetic C-core for measuring currents in ranges of 200A to beyond 2000A. The MLX91218 current sensor, on the other hand, uses a flexible U-shield for crosstalk immunity and for measuring currents in the ranges of 200A to 2000A. These new sensors from the company have an increased signal-to-noise ratio (SNR) which is about 2 times greater than the preceding sensors available. 
High linearity (within ±0.3% full scale) enables these AEC-Q100 automotive-qualified sensors to deliver enhanced accuracy for managing high-speed applications (motor control, inverters, and converters) besides regular monitoring of battery-management systems (BMS). Additionally, minimal thermal drift, maintaining electrical offset within +/-5mV and sensitivity within +/-1%, accuracy over a wide temperature range are the notable features that these ICs come endowed with.
With integrated over-current detection (OCD) circuitry implemented off-chip using an external window comparator, the MLX91218 and MLX91219 sensor ICs can simplify system design, saving board space, and reducing the bill of materials. The SOIC8 packaged ICs have an additional pin that enables setting the threshold voltage with increased accuracy using an external voltage divider.
The 2 indicator pins in the ICs show the overcurrent status in relation to internal and external thresholds, with 2us and 10us response times. The 400 kHz bandwidth and fast response time make these devices suitable for circuits designed to operate at high switching speeds and fundamental frequencies to minimize phase delay in the control loop.
The MLX91218 and the small-outline SOIC8 package for MLX91219 will be available soon from the company website.