Published
October 22, 2021
0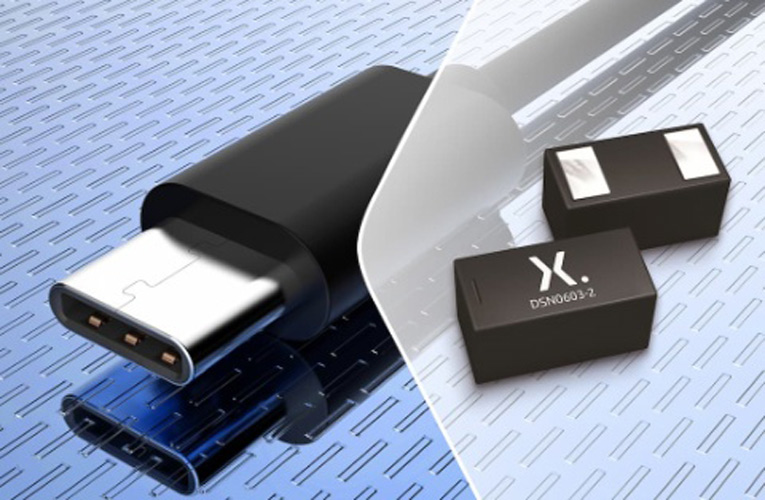 Nexperia announced two PESD5V0R1BxSF extremely low clamping and capacitance bidirectional Electrostatic Discharge (ESD) protection diodes. Based on Treos technology with active silicon-controlled rectification, the devices ensure optimal signal integrity for USB4TM (up to 2 x 20 Gbps) data lines on laptops and peripherals, smartphones, and other portable electronic equipment. The design engineers offer devices that minimize the impact of ESD protection on the total budget, by providing PESD5V0R1BDSF & PESD5V0R1BCSF two device options, engineers can balance between ESD voltage clamping (that is protection level) and RF performance.
The PESD5V0R1BDSF is optimized for low clamping and offers extremely low insertion loss figures of ‑0.28 dB at 10 GHz and similarly low return loss figures of ‑19 dB at 10 GHz. This device is housed in a DSN0603-2(SOD962-2) leadless, ultra-small Surface-Mounted Device (SMD) package designed to protect one signal line from the damage caused by ESD and other transients.
The PESD5V0R1BCSF is optimized for RF performance with insertion loss data of -0.25 dB and return loss data of -19.4 dB at 10 GHz each. This makes it ideal for applications with further limited budgets for insertion loss and returns.
Both the devices mentioned are housed in the ultra-low inductance DSN0603-2 (SOD962-2) leadless package, with a standard 0.6 mm x 0.3 mm footprint and 0.3 mm profile, with return-loss optimized solder pads. For USB4TM, it is mandatory to have AC-coupling capacitors also for the receiver (Rx) inputs. The voltage rating VRWM of the PESD5V0R1BxSF devices (>2.8 V) allows them to be placed directly behind the connector, which is the preferred position to include these capacitors in the protection and to achieve the best system-level ESD performance. And the application of both the devices are Cellular handsets & accessories, Portable electronics, Communication systems, Computers & peripherals, USB4, USB3.2, Thunderbolt4 and HDMI2.1 data lines.