Published
August 14, 2020
0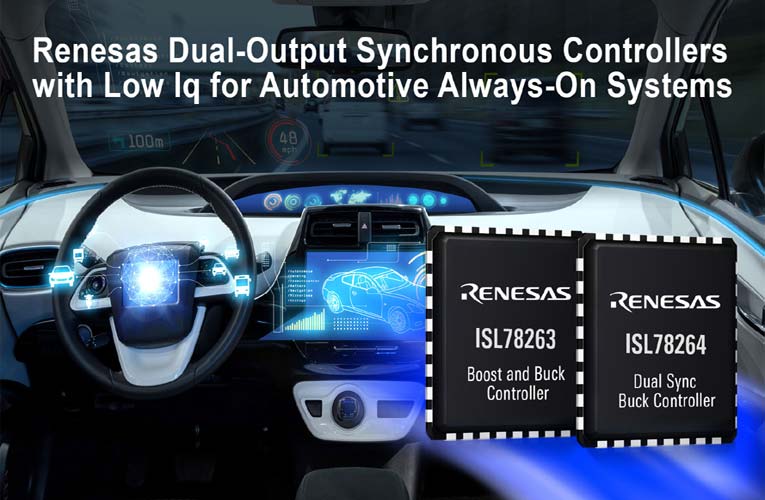 The Renesas Electronics Corporation has introduced a new pair of 42V dual synchronous controller that is designed with the lowest quiescent current of 6µA and integrated 2A source/3A sink MOSFET drivers that provide primary power stage solutions for the Renesas R-Car H3 and R-Car M3 SoCs.
The ISL78264 dual sync buck controller has been designed for steeping down the 12V battery system to 5V and 3.3V to power the vehicle's electronic control unit (ECU), in-vehicle infotainment (IVI) and digital cockpit systems with 50W-200W power levels. The ISL78263 dual sync boost and buck controller provides DC/DC conversion for supporting power levels of 25W-100W with a pre-boost if the battery voltage (VBAT) dips to as low as 2.1V during a cranking transient or a start/stop event.
Features of ISL78264 Dual Sync Buck Controller
Input voltage operation of 3.75V to 42V
Buck1 Vout is fixed at 3.3V/5V or adjustable from 0.8V to 5V
Buck2 Vout is adjustable from 0.8V to 32V
Low Iq of 6µA (typ) over a single buck channel
25ns on-times for low duty-cycle operation, and 180° phase shift between channels
Supports start-stop cranking transients down to 5.5V @ 2MHz without requiring pre-boost
Features of ISL78263 Dual Sync Boost and Buck Controller
Input voltage operation of 2.1V to 42V
Fixed buck at 3.3V/5V adjustable
Keeps buck output in regulation through cold-crank transients down to 2.1V
Boost frequency at 1x or 0.2x the buck frequency
Drop-out mode (buck) for high duty-cycle operation
25ns on-times for low duty-cycle operation
Both ISL78264 and ISL78263 offers an energy-conserving low quiescent current (Iq) of 6µA (typ) over a single buck channel, they also simplify power supply design by integrating FET drivers that can deliver industry-leading 96% peak efficiency and >10A output current. The built-in EMI mitigation with a switching frequency up to 2.2 MHz reduces the cost and size of EMI filtering/shielding.
The devices are designed with the feedback resistors and an external supply blocking diode for applications requiring cranking support and programmable spread spectrum for addressing the EMI interference challenges. They offer better protection for overvoltage (OV), under-voltage (UV), overcurrent, overtemperature, and a bootstrap supply Undervoltage detection and refresh circuit to protect the high side MOSFET.