Published
December 9, 2019
0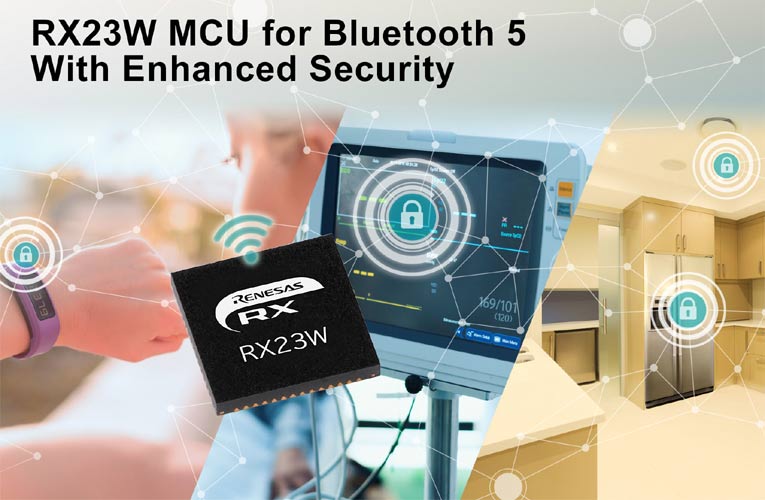 Renesas Electronics has introduced the RX23W, a 32-bit microcontroller with Bluetooth 5.0 for IoT endpoint devices such as home appliances, healthcare, sports, and fitness equipment. The RX23W is an optimized single-chip solution for system control and wireless communication, and it also provides more security to avoid eavesdropping, tampering, and viruses.
The RXv2 core in the RX23W provides outstanding computational performance with improved FPU and DSP functions. The microcontroller provides full Bluetooth 5.0 Low Energy support, including long-range and mesh networking functions and achieves the industry's lowest level reception mode peak power consumption at 3.0 mA. It also integrates multiple numbers of peripherals such as Security, touch key, USB and CAN functions that are indispensable for IoT endpoint equipment.
Features of RX23W Microcontroller:
Operates within the voltage range of 1.8V to 3.6V
Operating Temperature  -40 °C to 85 °C
RXv2 core 54MHz operation
Fully functional support for Bluetooth 5.0 Low Energy and outstanding reception characteristics
A basic protocol stack package and all standard profiles
A revolutionary development environment that allows simultaneous development of system control and communication control
Secure communications MCU for the IoT
Reduced Bill of Materials through integration
The RX23W is available now in both 7mm x 7mm 56-pin QFN and 5.5mm x 5.5mm 85-pin BGA packages with 512 KB of on-chip flash memory. The 56-pin QFN package with 512 KB on-chip flash memory will be priced at US$3.83 in 10,000-unit quantities. For more details about RX23W visit the product page on the official website of Renesas Electronics.