Published
August 23, 2015
85
This car parking assistant can protect your car from any damage while reverse parking. It indicates the distance of car from any object and raise an alarm when it reaches close to the wall or the object and needs to be stopped. This car parking sensor circuit is quite easy and uses few commonly available components which are listed below.
Required Components
IC LM358 - 2
10k Resistor - 1
1k Resistor - 3
10k POT - 3
150 Ohm Resistor - 1
Bread board - 1
9 Volt Battery - 1
Battery Connector - 1
LED - 3
Buzzer - 1
IR Pair - 1
LM358: LM358 is a Dual Low Noise Operational Amplifier which has Two Op-Amp in a single chip. This is a general purpose op amp which can be configured in many modes like comparator, summer, integrator, amplifier, differentiator, inverting mode, non- inverting mode and many more.
To design this car parking system circuit, we placed an IR transmitter receiver pair at the rear side of the car. IR transmitter transmits Infrared signal or rays into the environment continuously. When these transmitted IR rays reflect back to IR Receiver after striking on an obstacle, some voltage difference generates across this IR receiver LED. This generated voltage difference depending upon the power of IR rays that are reflected back to the receiver. More powered signal leads to more voltage difference. This voltage difference is used in our project to measure the distance. Here more voltage difference indicates the lesser distance from the object. Here we have shown distance from the obstacle by using three LED's. Meaning of these LED's are explained in working of this project.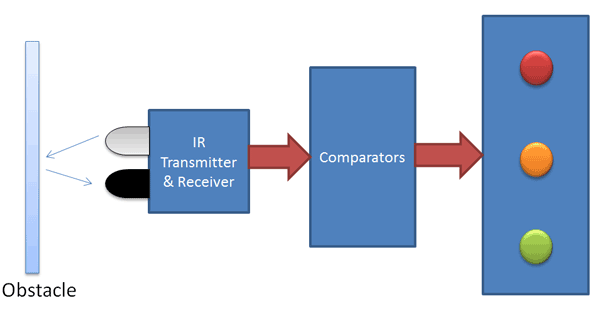 Circuit Diagram and Explanation
In this car parking circuit we have used an IR pair for detecting obstacle and two LM358 Dual Comparator ICs for comparing voltages. Comparator configured in non-inverting mode and 10 K potentiometer is connected at its inverting terminal for adjusting reference voltage and IR receiver's Output is directly connected at non-inverting pins of all comparators. One Red LED is connected at output of U1:B IC(LM358), a Yellow LED is connected at output pin of U2:A IC(LM358) and an Green LED is connected at output pin of U2:B IC(LM358) through a 1K resistor. A buzzer is also added at Red LED.
Working
We have shown the reference voltage and relative parameters in the below table. But one can set distance by changing the value of potentiometer.
| | | | |
| --- | --- | --- | --- |
| Obstacle v/s Vehicle | LED status | Reference Voltage | Distance |
| not close | All OFF | | Greater than 15 cm |
| Close | Green ON | 2.0 Volt | About 15 cm |
| More Close | Yellow ON | 4.0 Volt | About 10 cm |
| More Close | Red ON | 6.0 Volt | About 5 cm |
| Touch | Car Damaged | | About 0 cm |
This system is placed at the rear of the car and sensor's front side toward the obstacle (wall). Now suppose car is moving back toward the wall or obstacle in the parking slot. If distance between car and obstacle is more than 15 cm then no LED will glow. Now if car moves toward the obstacle and suppose greed light turned ON, it means car is about 15 cm away from the obstacle. Now car is moving more close toward the obstacle and yellow light appears or turned on it means car is about 10 cm away from the obstacle. Now car is moving closer toward the obstacle and red light appears it means car is about 5 cm away from the obstacle and same time buzzer start beeping. Buzzer and red light indicates that the car need to stop now otherwise car may be damaged.