Published
June 23, 2020
0
Technology has brought about a drastic change in the way we communicate with each other facilitating mobility and connectivity. The development of information and communication technologies has ignited a new type of human-computer interaction. How? In the form of wearable technology, it has been here for quite some time now and its popularity is increasing day by day.
Wearable Technology also referred to as wearable tech or wearables, is the devices or sensors that can be worn on or embedded in our body to perform a specific task or function. These are the type of assistive technology (AT) that is fast-changing with time in terms of size, battery, etc.
Years back, nobody could ever expect that the watches could tell more than just time; they could read messages, monitor your health by keeping track of your stress level, sleeping pattern, and more. But here we are today with oodles of wearable tech products already up on the market shelves.
In recent times, we have seen amazing innovations in the world of wearable technology, advances that are potentially transforming our lives, business, etc. In fact, it has become an indispensable part of our daily life. Wearables like Apple Watch, Fitbit, Motiv Ring, Google Glass, and other interesting wearable Tech Gadgets have changed the way we receive and share data. The wearable tech is expected to reach 929 million by the year 2021 and as per the IDTechEx analysis report, the market of wearable technology is expected to see grow to $70 bn by 2025. Besides, the statistics that speak out loud about the increasing popularity of wearable technologies, the applications of wearable technology in different areas is very vast and still growing.
Witnessing the growth graph of wearable technology, it has become increasingly essential to recognize and understand the future aspect of this technology. Let's take a closer look at the current scenario and what we can expect in the future in the wearable technology sector.
What are the Types of Wearable Techs We See Today?
Wearable techs range between normal compression socks that relieve swollen/aching legs caused by various disabilities, to high-tech wearables that we can say have exploded over the last few years. Like shoes with sensors that can convert movement into energy to track your exercise and weight changes and a piece of jewelry that track your heart rate, body temperature and blood oxygen levels, providing you with vital health statistics to shirts with sensors to monitor your physiology, broadcasting it to the world around you, the virtual assistant built into your contact lenses, microchips in nail polish, buttons with embedded GPS, headgear; the wearable technology has come a far way.
Many of the high-tech wearables we see today are part of the Internet of Things (IoT) network that lets you exchange and make use of information on any device within the network at home, work, or anywhere you are. You can also check out the article that discusses real-life examples of IoT.
Benefits Users are Availing from these Wearable Techs
There are innumerable ways in which wearable technology is sweeping in your day-to-day lives. From helping us keep track of our health and letting us make changes in our lifestyle to lead a healthier life to help save lives of many people, keeping us safe and making things fun and smart, wearable technology has become vital. The dominant sector that is increasingly being benefitted by the smart wearable technology is the healthcare/medical and fitness/wellness sectors, infotainment, etc. Not just that, the wearables are becoming a blessing for people with various types of disabilities as they can perform the tasks which otherwise they could not. Besides, offices and homes have both moved towards smart devices, and have been enabling users to manage all of their devices in sync.
Here's a Cicret wearable projection band that comes with a built-in projector and eight sensors, which will allow users to manipulate an image that is projected onto his/her arm.
The Paradigm Shift We Expect to See in Wearable Technology
One thing that we can be sure of is that the future of wearable technology is shining bright. We are not just wearing the technology on the body but inside the body too. The wearable technology is changing with time and the change is leaving the consumers amazed. The wearables are becoming less and less visible. The technology is easily being fitted into earrings, shoes, clothing, etc. and is not easy for the other people to spot. Besides, wearable gadgets are becoming more and more battery-efficient and do not require a lot of charging and internet connectivity.
Named PHYSIO, this is an undershirt designed for aircrew to conduct in-flight monitoring of multiple vital signs. The small, soft, injectable sensor lets medics determine if a patient can be medically evacuated by assessing blood transports oxygen to tissue.
A lot of wearable gadgets are helping to monitor and treat medical problems like IoT based diabetes monitoring devices to (monitor blood sugar levels and automatically supplying insulin. Moreover, the wearable technology is helping in authentication in doing things like unlocking your home, buying things at the store, going through security checks, etc.
The Future of Wearable Technology / Wearable Technology of Tomorrow
The innumerable developments going on in the field of wearable technology is surely leaving us amazed but then definitely their several users are still not sure whether they want to walk around with these wearable devices on their body. Overcoming, the challenge is a bit tricky but then if it's done, the potential of wearable devices lies ensured to help in enhancing the productivity and well-being of people of all ages and abilities. Implantables too have been around for quite some time now and with the help of sensors connected to the IoT that is embedded in the person's body.
​
The picture you see above is one fine example of wearable tech. It's a glove that plays music via a laptop.
These wearables have changed the way local news is shared, how people engage within secure messaging, learning apps with children's animated stories, and the list seems endless. The future of wearable technology will ensure enhanced safety and each person might have a personal alarm button worn on the wrist or some Radio frequency ID blocking wearable so that his/her identity could not be stolen. An improvised version of current wearables and the development of new unimaginable wearables could be a boon for the users.
In an interview with Gaurav Tiwari, an IoT Wearable Technology Expert, we discussed the current and future scenario of wearable technology, the IoT Wearable Technology, and here is what he said:
"The current market of Wearable Technology is valued at approximately USD 28 billion and expected to grow 2.5 times in the next 5 years. Currently, many big players and startups are putting their foot in the wearable tech industry. It is seen that most of the wearable tech startups went for crowdfunding as this helps startups to set up their initial production and also validates the idea.
Already many wearable tech products are out in the market like Smartwatches, Fitness Trackers, Smart Insole, shoes, clothes, jewelry, glasses. The sport (hand band, watch, headband, etc.) is the segment where the wearable devices are all over the Internet and dominating the other segment, however, the data generated by this segment have a direct relation to healthcare and monitoring. Companies are rigorously improving these devices from the data collected, to enter into the healthcare segment. There are two segments where I see very good potential growth in the near future.
Healthcare: As most of the companies already monitoring peoples' fitness on their fitness tracker, the data will become the main source of further study and innovation in the healthcare sector. Head-mounted display: As the virtual reality becoming a new buzz in the market. The Game industry, the travel industry, and many others are already starting to use this tech. The impact of COVID-19 on the wearable segment is expected to have a significant effect. The first three quarters of the year will have the most significant effect as the supply chain has experienced a disturbance. The production of the countries that have most of the manufacturing presence of raw materials, sensors for wearable products have impacted considerably. However, some of the segments like healthcare, monitoring, head-mounted display are expected to get more traction and grow in the near future."
The sensor fitted insoles (Stridalyzer) can connect to the mobile application and are used to analyze Running Gait, other sports data, and also gives the injury prediction.
The Stridalyzer technology can be used for rehab (sports medicine), balance training (brain stroke), foot ulcer prediction (diabetes), fall risk prediction (elderly), and many other foot problems.
Recent Advancements in the field of Wearable Technology
From e-skin-sweat powered electronic patch to loops from IMEC and the Ghent university that is helping users in maintaining social distance during the COVID-19 pandemic, advancements in wearable technology are highly visible. Self-adhesive sensor predicts heart failure, electronic skin patches, personalized nutrition smart wearable patch to reduce diabetes risk, self-charging medical devices, color-changing photonic crystals, eyeglass sensors to automatically monitor diet there are innumerable wearable techs that are some of the examples of the current advancements in the wearable technology
Not just that, recent research led by the Southern University of Science and Technology (SUSTech) has found that gelatin could be used to power devices in the future with the heat generated from the human body. Also, engineering researchers have created ultrathin stretchable electronic material that is gas permeable (which helps the material to breathe). This is paving the way for more functional wearable tech.
Pinned below is the picture of a fast, sensitive, biocompatible, soft, and flexible bioelectronics device that has long-term stability in physiological environments.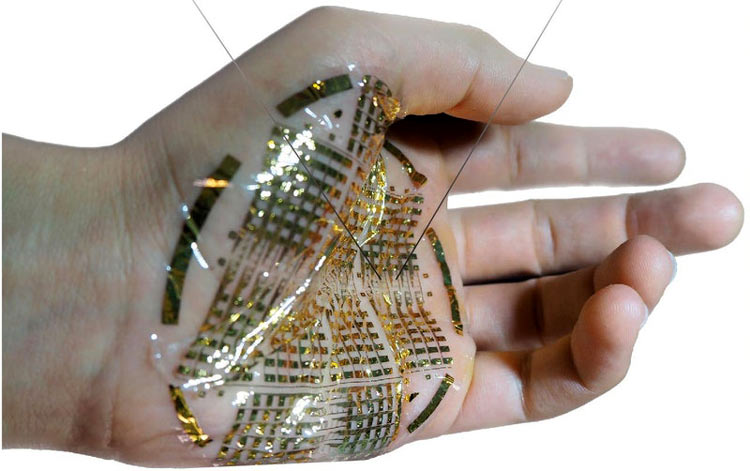 Now that we have reviewed the current and future scenario of wearable tech, we know that its present and future is bright with innumerable possibilities and applications. The result of this technology surge is undoubtedly going to be better making a more efficient world of devices that operate at a faster speed and are easily worn to perform the assigned tasks and functions. Thus, we can expect wearables to expand the digital market to a great extent and can be implemented in new domains other than the existing ones thereby transforming our lives to be safer, more automated, and convenient.