Published
September 23, 2020
0
Unmanned Aerial Vehicles (UAV) popularly known as drones that were originally designed for military and aerospace industries have come a long way and have found applications across various sectors like agriculture, infrastructure, transport and delivery, media, telecommunication, security, etc. The enhanced level of safety and efficiency that they offer are leaving a positive impact on market growth. Adding to this, various technologies like RADAR/LiDar, wireless communication, GNSS, satellite communications, and GPS are contributing their bit to make drones all the more popular. Airbus S.A.S, DJI, 3DR, YUNEEC, Kespry, EHANG, Boeing, Delair, AguaDrone, Autel Robotics USA, etc. are some of the companies that are manufacturing UAVs.
The drone market is gaining traction at a high pace. In the year 2018, the global commercial drones market was valued at about $3.45 billion and is expected to grow to $7.13 billion at a CAGR of 19.9% through 2022. However, due to the economic slowdown across the countries owing to the COVID-19 outbreak, there has been a decline in the growth rate of the global commercial drones market. There are hopes that the growth in market size will be about $6.15 billion in 2023 at CAGR of 19.09%.
The different levels of autonomy and capability of traveling at varying heights and distances are what make one drone different from the other. Talking about the level of autonomy, there are remotely piloted drones with human beings controlling the movements. Besides, there are drones with advanced autonomy (with a system of sensors and LIDAR detectors that help in calculating the movement). Also, different drones are capable of traveling at different heights and distances. These can be categorized as:
Very close-range drones that travel up to three miles.
Close-range drones that can travel within the range of around 30 miles.
Short-range drones that can travel up to 90 miles
Mid-range drones that can travel 400-miles
Longest-range drones that can go beyond the 400-mile range and up to 3,000 feet in the air. These drones are also known as endurance drones.
With the ability to cover varying distances and go up to different heights, these remotely controlled UAVs are proving to be quite helpful in the surveillance of disaster sites and areas with biological hazards, searching survivors after a hurricane, advancing scientific research in extreme climate conditions, in epidemiology for research and tracking disease spread and likewise. Recently, we witnessed the locust attack in various parts of the country, and drones are being used in different cities for spraying the insecticides to combat the situation. Let's take a closer look at the different types of drones.
Types of Drones
There are several ways in which drones can be categorized, first one being the usage/purpose (commercial or recreational purposes). Broadly the drones are divided into four categories viz. single-rotor drones, multi-rotor drones, fixed-wing drones, fixed-wing hybrid drones. Other than these, there are small drones, micro drones, tactical drones, large combat drones, target and decoy drones, reconnaissance drones, non-combat large drones racing drones, photography drones, GPS drones, etc. Here' we are going to discuss some of the drones along with their applications.
Recreational drones that are also called mini/micro drones are used for just recreational purposes. They are not much expensive and come in the price range of $30-$150. Also, some drones are used by photographers for their high-quality professional work. These drones are a bit expensive and range somewhere between $500 and $2,000. Commercial drones are used for aerial shots for tasks like real estate marketing, collecting data for insurance-related inspections, etc. These drones vary in price range depending upon the tasks for which these are designed (like aerial photography, high-quality aerial photography, television, and movie production, mapping, and surveying). They start somewhere from $ 300 and go up to $25000.
Other than these, the drones can be classified based on their design (multi-rotor drones, fixed-wing drones). Listed below are four types of drones based on their design.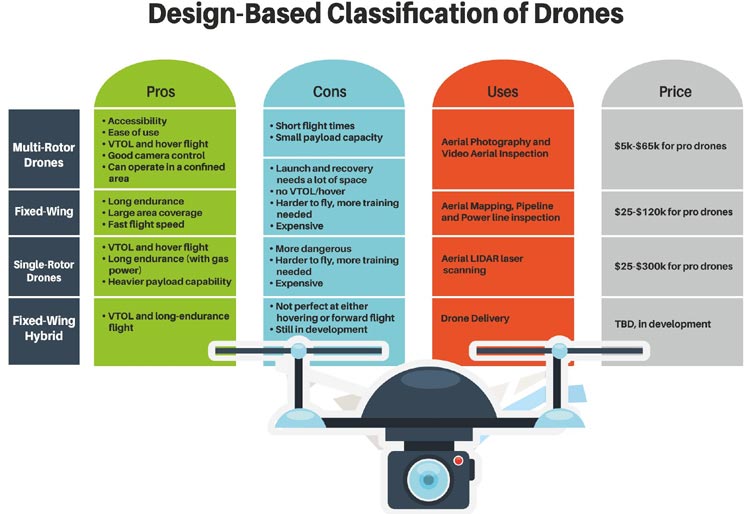 Single-Rotor Drones:
Single-rotor drones are the basic type of drones that have just one rotor and a tail unit in some cases. These types of drones can generate thrust more efficiently than multi-rotor drones ensuring longer flight times. These types of drones work on the rule of aerodynamics i.e. larger the rotor blade is and the slower it spins, the more efficient it is. The single-rotor drones are costlier than the other types of drones. Besides, the larger rotor blades make these drones difficult to manage and there are chances of accidental injuries. Moreover, these types of drones are often not stable and are difficult to fly as compared to multiple rotor drones that fly in a balanced and stable manner. The price range of these drones is around $25k to $300k.
Multi-Rotor Drones:
A multi-rotor drone is a rotorcraft that has more than two lift-generating rotors positioned at strategic points on the craft. Unlike single and double rotor helicopters that use complex variable pitch rotors for flight stability and control, multi-rotor drones use fixed-pitch blades that make it easier for it to maintain its balance and keep hovering. By varying the relative speed of each rotor, the thrust and torque produced can be changed, thereby controlling vehicle motion.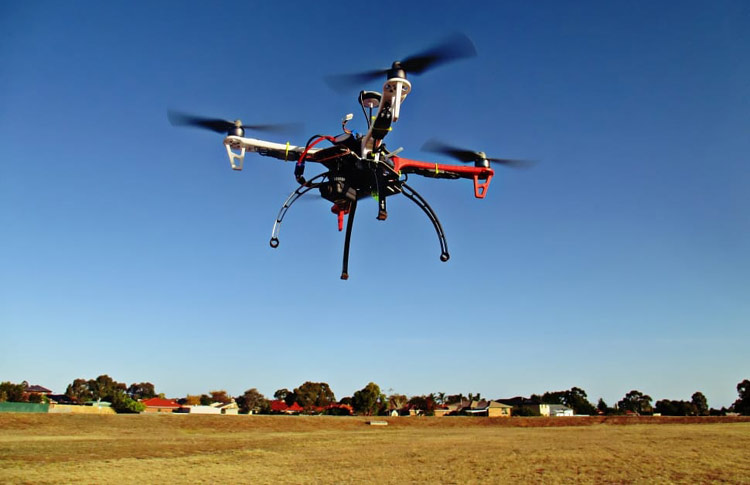 These drones are perfect for aerial photography as these give great control over position and framing. More the rotors that a drone has, the lesser will be the time it will be able to remain airborne. Offering good stability, the multi-rotors are capable of flying for half an hour. The disadvantage of multi-rotor drones is that these cannot carry a heavy payload and the balance is disrupted if done so. Besides, they have limited endurance and speed, which makes them unsuitable for large scale aerial mapping. Also, to fight gravity and keep flying in the air, it takes a lot of energy. Freefly Alta 8, U49WF FPV Camera DroneYuneec H520, DJI Inspire 2, etc. are the drones that fall into this category. There is a variety of options available with prices ranging from around $5k to $65k.
Fixed-Wing Drones:
As the name hints, these are drones that have fixed-wings and there are no rotors. These look all the more similar to controllable airplanes and not helicopter-style drones. These types of drones are ideal for long-range flights. Their wings provide vertical lift and they just need the energy to keep moving forward. Some fixed-wing drones are gas-powered and are capable of staying in the air for as long as 16 hours.
The major drawback is that these drones cannot hover in the air like the other type of helicopter-style drones. As there is no rotor, these types of drones are difficult to land. Zipline is a medical drone delivery company that is using a fixed-wing drone for delivering blood and other medical supplies to remote areas. senseFly eBee Classic, Parrot Disco, Hubsan Spy Hawk, etc. are some of the fixed-wing drones. The price range of these drones is somewhere from $25k to $120k. The price tag these drones come with is another major drawback and the other one being the level of difficulty one faces to operate them.
Fixed-Wing Hybrid VTOL:
These types of drones have a couple of rotors attached to the ends of fixed wings. The fixed-wing hybrid drones look like aircraft from the 60s. These not available commercially but several companies are working on developing them so we can expect to see them flying anytime soon Amazon's Prime Air delivery drone is one of the finest example of this type of drone. LP INFORMATION recently released a research report on the hybrid VTOL fixed-wing UAV market analysis, according to which global hybrid VTOL fixed-wing UAV market expected to witness sustainable growth over 2025. Hitec, Ukrspecsystems, Vertical Technologies, DG Intelligent, Threod Systems, Jd.Com Inc, Lockheed, and Martin Corporation are some of the companies that are manufacturing hybrid VTOL fixed-wing UAV. These drones are being used as taxi drone prototypes in Dubai.
To further get an insight into the types of drones, we sat with Prem Kumar, Co-founder and CEO of Marut Dronetech and asked him about the different types of drones the company manufactures, to which he said:
"The first type of drone that we manufactured was Marut Zap which is the world's 'first commercially available mosquito eradication and AI-backed disease prediction system.' The platform is designed for disease prediction and location-wise eradication of diseases such as dengue and malaria.
Other Types of Drones Include:
Marut Agri which is a comprehensive tech-based solution using drones and IoT, combined with advanced data science algorithms to make agriculture smarter. It uses data analytics and machine learning to facilitate targeted spraying and reduce the harmful side effects on manual labor.
Marut Gro is the company's scalable model of reforestation is yet another product that aims to create a sustainable future for the world. The drones deployed with seed balls sow around 15,000 seeds per day from a height of 50 feet.
Marut Medico is a medical delivery drone that is accessible through a mobile app to enable the drones' penetration in remote, inaccessible areas where primary healthcare providers can get daily supplies at the press of a button.
In the age of the Coronavirus, there is a constant need to supply sanitizers, masks, and Personal Protection Equipment (PPE). Marut Drones, like a few other innovation leaders, is leveraging smart technology to deliver swift and efficient contactless aid to victims of the pandemic. Taking a cue from the successful deployment of drones in South Korea and China, Marut Drones has taken significant steps to explore new ways of using their core technology to control the further transmission of the virus among the public.
The company partnered with the Government of Telangana to deploy drones for various COVID-related applications, such as disinfection and sanitization; movement tracking; thermal analysis; medical delivery of critical supplies; and surveillance of quarantined areas."
We also had word with Mr. Saurabh Joshi, CMO of Passenger Drone Research Private Limited (PDRL), Drone Technology Company. PDRL is recognized under the Start-Up India initiative by the Government of India's Department of Industrial Policy & Promotion, and it's a Golden Award at the International Automation Expo 2019 awardee.
Providing insights about the products and services the company offers, Mr. Saurabh said:
"The current product portfolio comprises of AeroFC Autopilot which is an indigenous controller for Remotely Operated Vehicles such as UAVs, Rovers, and Underwater vehicles. For UAV's i.e. drones, the autopilot complies with DGCA's NPNT requirements. PDRL is an official partner of ArduPilot for autopilot firmware. Next is AeroHans Air Taxi which is India's first indigenous Air Taxi that is redefining mobility in a safe, affordable, and comfortable way. Also, there is AeroMegh that deserves a mention. It's an end-to-end automation platform for drones and drone applications. The platform comes with an indigenous Ground Control Software, Live Tracking, Live Streaming, Command Control Centre, AI ML Annotation capability, and a lot more. The drones that our company manufactures cater to the drone manufacturers, enterprises, government segments working in surveillance, security, agriculture, construction, and a similar list of industry segments."
Types of Drones based on Application Areas
The types of drones also vary depending upon the specific purpose for which it is designed. From agriculture to defense, insurance, construction, and mining, drones are proving beneficial in varied sectors. 
Agriculture: The agriculture consumption that is directly proportional to the population is expected to rise high by the year 2050. Owing to the rise in popularity of drones, these are being used by farmers and agriculture companies for the management of acres of land, fertilization, livestock monitoring, irrigation management, and other purposes. Other than drones, we have also discussed how IoT is transforming the Food Industry previously.
Construction and Mining: Drones are being used to ensure the safety of workers, timely inspections and avoiding mishaps, etc. Harshwardhansinh Zala, a young teenage boy developed a drone named EAGEL A7 that is capable of detecting and detonating landmines. The drone can detect explosive devices, track their location, and detonate them with our wireless detonator, averting any human risk. Parrot Bluegrass is a fine example of a drone designed for agricultural purposes as it can detect problem areas in different types of crop fields.
Firefighting: Bebop-Pro Thermal is a drone that is designed specifically for firefighting. The drone has FLIR One Pro thermal imaging camera that helps it in thermal imaging.
Indoor Inspection: Elios 2 by Flyability is a drone that is apt for indoor inspection. It has a unique and application-specific design that makes it ideal for inspecting tight, hard-to-reach spaces. 
Insurance: Insurance firms are leveraging drone technology to provide faster and accurate property assessments. This helps assess hard-to-reach locations if the disaster has hit. The drones can take pictures and videos of the damage which when transmitted to mobile devices for real-time assessment.
Construction: Some drones are being used for construction purposes. 3DR Solo is a drone that comes with the construction-focused software for site scans.
Surveying & Mapping: DJI Phantom 4 Real-Time Kinematic is a drone that is used for surveying and mapping as it is capable of making accurate maps. With GNSS satellite positioning, its accuracy is up to 2 inches i.e 5 cm.
Delivery: We all know about the delivery drones that have gained popularity over the years, we have also discussed the Impact of Drones on Shipping industry previously. With this COVID-19 scenario, these delivery drones are proving to be quite helpful in contactless deliveries.
Not just that, there are drones used for research, government, and military purposes, for example, RQ-16 T-Hawk which is a Micro Air Vehicle (MAV) used for military purposes.
Drone technology is constantly evolving and there have been groundbreaking advancements that have taken place over the years. As technology continues to advance, drones will be far safer, more dependable, and smaller and will do the job in a hassle-free manner. This is going to allow for the subsequent mass adoption of drone technology in different sectors. Drones have immense technological potential and we can expect expansion in the horizon!