If you are from a technical background or have some interest in Computers or Electronics, then you must have heard the name Magic Mirror. Basically it is to turn your regular Mirror into a gadget or monitor, which will show you all the updates like news, whether, stock prices etc. There are many kind of Magic mirrors from the basic one to the advanced touch screen mirrors. Today we are sharing one very interesting and cool Magic Mirror which not only work as a monitor but also talk to you with a 'face' like a Artificial Intelligence in your home.
Diymagicmirror.com did a great job with some sensors and other common hardware, and built this Interactive Magic Mirror. In this mirror, a interesting character talks to you from inside the mirror like a Harry Potter Movie and tell you all the updates in his voice. It also follows your commands for home automation tasks and triggers various events according to the sensors. It can also notify you, entertain you and even insult you ;).
This Magic Mirror can be built using a Two way mirror, a LCD Monitor, a computer and Magic Mirror Sensor Hub provided by diymagicmirror website. The Sensor Hub is very important here to connect all the sensors to sense various actions. They also provide a Software to be installed in the computer for controlling and settings various options for the Mirror. Although this sensor hub and software is paid but it is a open source project and if you don't want to buy the sensor hub, you can use Arduino to connect all the sensors. They have provided excellent documentation for installing and setting up all these sensors with Arduino or Sensor hub.
You can select out of four characters and can set custom voice response for various events.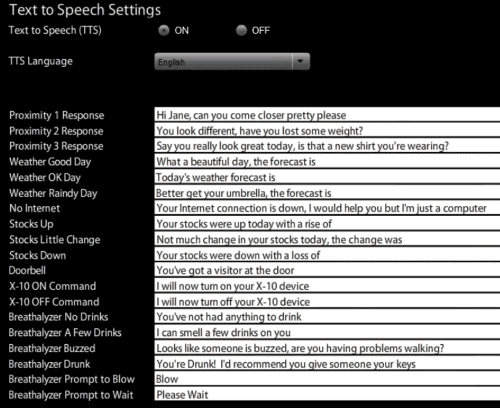 You can connect various sensors with it, like Proximity sensor senses the presence of the person and character starts talking from inside the mirror, touch sensor senses the touch to control the lights with a vocal response from the mirror, a magmatic reed switch can trigger a slideshow on the Mirror from you Picasa album. It can also works as Breathalyzer by connecting Alcohol sensor and like a Photobooth by connecting a web camera. It has numerous cool and useful features like you can get live video feed on the mirror, from the IP camera outside your house or you can run facial recognition or you can listen to the Tweets by the character inside the mirror etc. You can also interface X 10 module for home automation.
It's a very creative idea with simple electronics, which not only useful but also very entertaining for kids. Check its various custom installations here like Halloween surprise, Treasure hunt, magic suitcase etc.