Published
August 12, 2020
0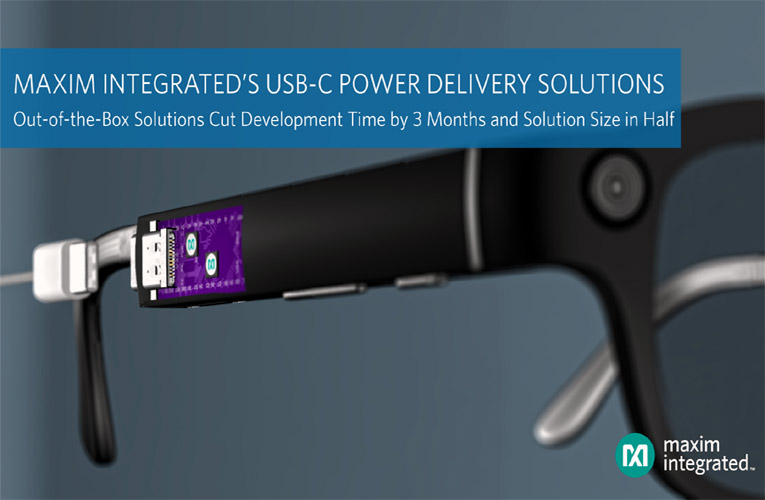 To meet the demands of high-power delivery and high-power charging requirements in portable electronics, Maxim Integrated has expanded its USB-C Power Delivery (PD) solutions with a new USB-C PD Controller MAX77958 and a 28W Buck-Boost Charger MAX77958. The new MAX77958 controller provides out of the box USB-C PD complaint solution using which the designers can reduce development time by three months, while the new compact MAX77962 buck-boost charger IC can reduce solution size by half.
With reduced size and high power delivery, MAX77962 and MAX77958 can be used in wide range of portable and wearable applications including game players, augmented reality/virtual reality (AR/VR) devices, cameras, wireless speakers, portable printers, handheld computers, as well as industrial equipment and medical devices. 
MAX77958 USB-C PD Controller: While USB-C PD systems are capable of meeting the demands of next-generation portable consumer, industrial and medical electronics, compliance to these USB-C specifications requires multiple components and custom firmware that can take several months to develop. The MAX77958 standalone USB-C PD controller saves three months of design, development, and testing time with an out-of-the-box USB-C PD 3.0 compliant solution with Fast Role Swap and Dual Role Port (DRP) support. The MAX77958 includes features not typically integrated in traditional USB-C controllers, such as BC1.2 detection and integrated D+/D- switch for legacy USB port support. To enable robust designs, the IC features 28V VBUS rating, CC pin short protection, moisture detection, and corrosion prevention.
MAX77962 Buck-Boost Charger: New USB-C PD systems enable rapid charging of 2S Li+ batteries using an input voltage of 5V to 20V. The MAX77962 integrates high-voltage FETs (30V absolute maximum voltage) capable of delivering 28W of charging power in half the size of other 28W solutions. This buck-boost charger accepts an input voltage range from 3.5V to 23V, supporting USB-C PD as well as legacy USB sources.
Key Advantages
Faster Development Time: Out-of-the-box USB-C PD compliance cuts development time; MAX77958 PD controller eliminates three months of firmware development with a GUI-driven customization script, BC1.2 support, Fast Role Swap, DRP mode and integrated D+/D- switch
Robust Design: MAX77958 USB-C PD controller features a 28V VBUS rating, integrated protection against shorting the USB-C Configuration Channel (CC) pins, moisture detection, and corrosion prevention to enable robust designs
Smaller Size: MAX77962 buck-boost charger integrates all power FETs to reduce solution size by 50 percent
Wide Voltage Range: MAX77962 buck-boost charger offers a wide input voltage range of 3.5V to 23V supporting USB-C PD; Enables 28W rapid charging of 2S Li+ batteries
Availability and Pricing