Published
March 5, 2020
0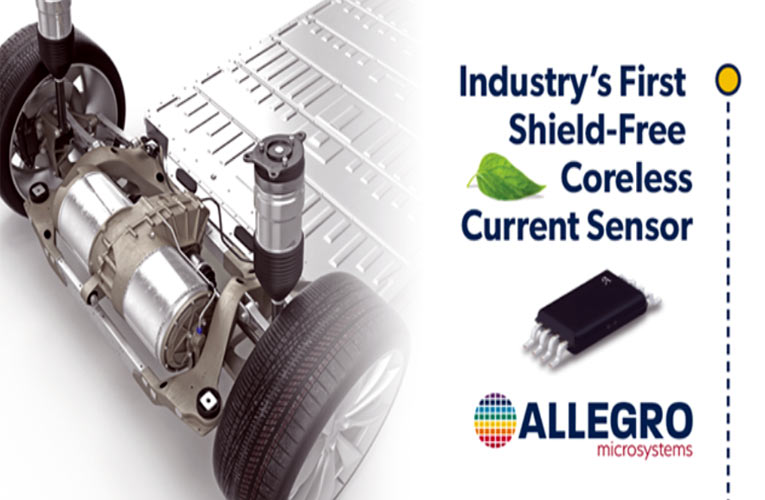 Allegro MicroSystems has launched a coreless current sensor named ACS37612. This device is capable of measuring currents from 200A to >1000A flowing through a PCB or a busbar with a typical accuracy of 1% that too without a magnetic concentrator core or a shield. The differential Hall-based sensing topology used to measure the magnetic field provides great immunity to stray magnetic fields without a laminated shield required by competing solutions, thereby reducing the design size and bill of materials (BOM).
The non-invasive contactless current sensor is designed in a way so as to improve thermal efficiency relative to shunt solutions and is ideal for reducing system energy consumption in 48V e-motor platforms. Eliminating the cores, the ACS37612 enables manufacturers to reduce the space and weight of the inverters, thereby increasing the efficiency of the electric vehicle. Its ability to be used in either busbar or PCB designs provides engineers the mechanical flexibility and simplifies their system-level solution.
With 240KHz bandwidth, it is an ideal sensor for inverter phase current sensing, load detection and management, power supplies, and DC/DC converters where fast switching is required. The high response time helps in overcurrent fault detection in safety-critical applications. A –40°C to 150°C ambient operating temperature and a stellar ESD rating make it ready for the harsh automotive environment.
The sensitivity level of ACS37612 and the shape and location of the busbar help in determining the system coupling factor and make it easier to increase the current sensing range at any phase of the design. The coreless design sensor, ACS37612 is available in a very small TSSOP8 package (LU-8) that has a 3 x 6.4mm total PCB footprint. Its thin-shrink small outline package makes it ideal for space-constrained applications while allowing simple surface mount assembly.