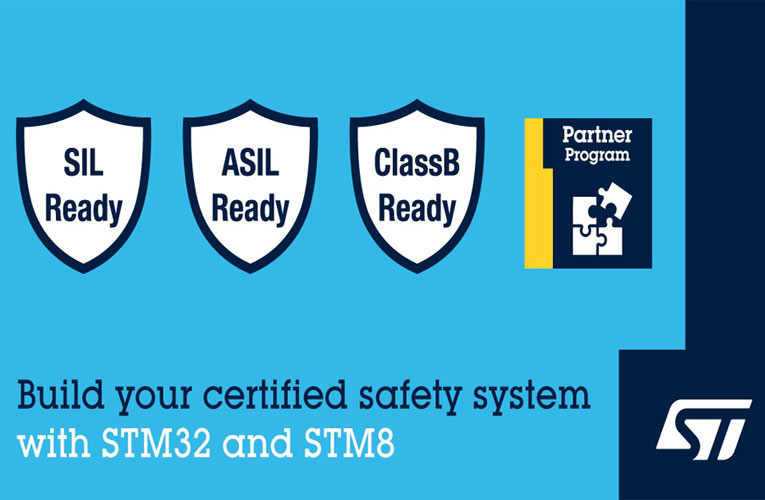 STMicroelectronics has released three functional-safety packages that simplify the development of safety-critical industrial, medical, consumer, and automotive products based on STM32 and STM8 microcontrollers and microprocessors.
The packages are available free of charge and contain the resources developers need to satisfy applicable IEC and ISO specifications. ST's portfolio of over 1000 STM32 devices and the STM8 microcontroller family including STM8AF automotive-qualified devices delivers the breadth of choice and affordability typically unequaled by more expensive dedicated safety MCUs.
Targeting industrial applications, the X-CUBE-STL package is certified by TÜV Rheinland according to IEC 61508 SC3 and allows together with the Condition of Use of the Safety Manual, the use of STM32 devices for the implementation of safety functions up to Safety Integrity Level SIL-2 or SIL-3. X-CUBE-STL is available immediately for most STM32 variants, with packages for STM32L5, dual-core STM32H7, and STM32MP1 devices scheduled for Q4 2020.
For developers of safety-critical home appliances, X-CUBE-CLASSB is certified by Underwriters Laboratories (UL) according to IEC 60335-1 and 60730-1. It is available for STM32F0, G0, F1, F3, G4, F2, F4, F7, H7, L0, L1, L4, and WB.
The STM8-SafeCLASSB package is also available, enabling appliance developers to leverage the high efficiency, low cost, and low power consumption of STM8 devices. X-CUBE-STL, X-CUBE-CLASSB, and STM8-SafeCLASSB contain application-independent self-test libraries for core CPU and memory components, as well as necessary safety documentation.
The STM8A-SafeASIL package provides the documentation needed for automotive applications up to ASIL B. Suitable for use within an ISO26262-compliant software development process, this package helps users to realize the software self-test library required by the STM8AF safety manual.
All embedded developers can leverage these packages to overcome engineering challenges, accelerate time to market, and minimize certification costs.
The new functional-safety software packages are available now, free of charge.
X-CUBE-STL and STM8A-SafeASIL are subject to the Non-Disclosure Agreement (NDA). Please contact your local ST sales representative for details.
Please visit https://www.st.com/functionalsafety for more information.