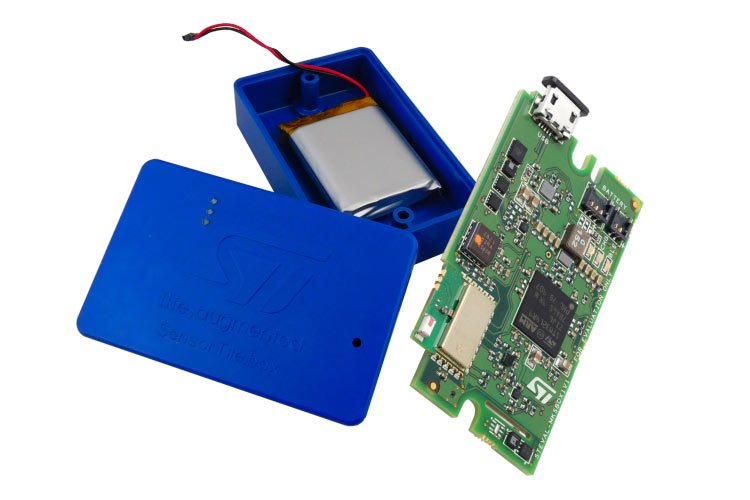 STMicroelectronics has announced a new version of its SensorTile.box called the STEVAL-MKSBOX1V1 which is a ready to use product development box kit with a BLE sensor app to help engineers use and develop apps based on remote motion and environmental sensor data. Fans of ST would be quick to notice that this new version of SesnorTile.box comes in a compact blue box with a larger battery compared to its older version. The new board has also enhanced its form factor to make it suitable for wearable application designs.
Looking into the hardware, the board consists of the ultra-low power ARM Cortex-M4 microcontroller (STM32L4R9) from ST with BLE smart connectivity v4.2 (SPBTLE-1S) for communicating with the mobile application. It also packs in 7 dedicated motion sensing and environmental sensors from ST which can be used in many applications like Pedometer optimization, Baby cry detection AI learning, Barometer, Goods tracking , Vibration monitoring, Compass, Sensor Data logger and much more. The name of the sensors present inside the SensorTile box is listed below.
Digital Temperature Sensor – STTS751
6-axis Inertial measurement unit – LSM6DSOX
3-axis accelerometer – LIS2DW12 and LIS3DHH
3-axis magnetometer – LIS2MDL
Altimeter/Pressure Sensor – LPS22HH
Microphone/Audio Sensor – MP23ABS1
Humidity Sensor – HTS221
These complete list of sensor fits inside a small plastic box with a long-life rechargeable battery and the sensor data can be accessed through the ST BLE Sensor app on our Smartphone via Bluetooth. The app consists of some default IoT and wearable sensor demo applications which allow the designers to begin development immediately. In also provides an Expert Mode using which the designer can build custom apps suitable according to their design requirements. The application provides a wide variety of operating parameters, data output types, special functions and algorithms readily available to speed up the development process. It also includes a firmware programming and debugging interface that allows professional developers to engage in more complex firmware code development using STM32 Open source Development Environment which also includes a sensing AI functional pack with network libraries.
More details regarding the STEVAL-MKSBOX1V1 SesnorTile box can be found ST's Product Evaluation Tool Page; you can also make use of this SesnorTile.Box User Manual to get started.