Published
February 21, 2019
0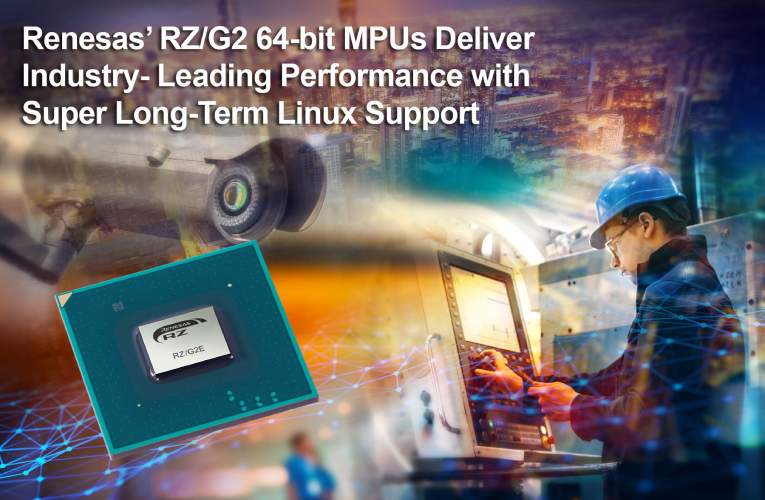 Renesas Electronics released its high performance RZ/G2 ARM MPUs series with more than 10 years of Linux Kernel Support and advanced security features. The four RZ/G2 MPU variants comes with 64-bit Arm Cortex-A57, Arm Cortex-A53 and two-six-eight cores with its new improved on-chip 3D graphic functions. By keeping eye on needs of developers, the four new RZ/G2 MPUs are supported by the Renesas RZ/G Linux Platform and offers 10 years of Linux Kernel Platform Support. The RZ/G2 Group will come with On-Chip 3D graphics engine,  H.264 and H.265 codec support, HDMI, LVDS and MIPI-CSI2 camera input interfaces.
The RZ/G2 MPUs are loaded with high Performance 64-bit MPUs, error checking and correction(ECC) protection on both internal and external memories and a comprehensive set of integrated interfaces such as USB3.0, SATA, QSPI and eMMC gigabit. The RZ/G2 also features full Verified Linux Package(VLP) with a Civil infrastructure Platform(CIP) bundled with software development environment which enables safety, security and reliability for both software and hardware. The RG/G2 supports new 64-bit Arm CIP Kernel and will serve as the reference hardware for Arm64 for the certification and release of CIP packages in future.
The key highlights of RZ/G2 launch
Up to 2.7 times the CPU processing performance compare to its preceding RZ/G1 group build with 64-bit Arm cortex-A57 and Cortex-A53.
Support for the latest high-speed protocols for external memories including LPDDR4 or DDR3L up to 3200 MT/s.
Interface support of USB3.0, SATA, PCI-e, QSPI and eMMC gigabit for fast communication.
ECC on all internal and external memory interfaces for all devices in the group.
Super long term support and security maintenance of Linux Kernel for more than 10 years.
Comes with complete VLP and verification test software and GUI framework with support for HTML5, Qt, 3D graphics, H.264/H.265 video and security fucntions.
In terms of availability, the official release has confirmed that the all RZ/G2 MPUs will be available in four devices- RZ/G2E, RZ/G2N, RZ/G2M and RZ/G2H. In terms of ordering sample then sample shipments of the six-core RZ/G2M and two-core RZ/G2E are available now. The other MPU models will be released in upcoming time. The mass production of MPUs will start in Quarter-1 of 2020.