Published
September 8, 2022
0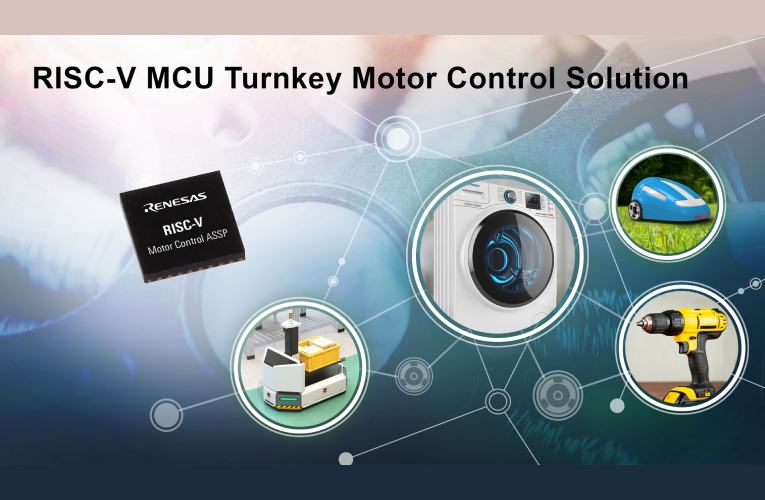 Renesas Electronics Corporation has introduced the new RISC-V MCU that enables customers to benefit from a ready-to-use, turnkey solution for motor control applications, with no development cost, and is specifically optimized for advanced motor control systems. This new R9A02G020 motor control ASSP is based on RISC-V processing IP and its target applications include home/building automation, healthcare devices, home appliances, drones, and more.
The R9A02G020 RISC-V MCU ASSP hardware is specifically optimized for advanced motor control systems. Alongside ecosystem partners, this provides a complete, production-ready motor control system solution. With 32MHz performance, 48/16KB of Flash/RAM memory, and advanced analog features, the R9A02G020 provides the foundation for a turnkey motor control solution. Moreover, the availability of small package options and highest temperature support make such ASSP ideal for highly space-constrained PCB designs, within harsh environmental conditions.
Key Features of R9A02G020 RISC-V MCU ASSP
32MHz 32-Bit innovative RISC-V CPU core with cost-optimized specification
Rich analog IP functionality incl. 3 ADC with dedicated PGA and  Sample and Hold circuit, 2 DAC on both options, 2 comparators, temperature sensor
Advanced motor control timers, and two watchdog timers for safety purpose
Small QFN packages (24 and 32-pin device)
High-temperature support (125 C°)
Support sensorless, vector control for one BLDC motor, 1/3 shunt, PFC, and Hall sensor inputs
16 KB SRAM, incl. 4KB with ECC
Memory protection units (CPU and bus)
Customizable parameters & application options
Supported by easy-to-use PC GUIs/Configuration tools 
Controlled by external host I/F 
Complete reference design: hardware, software, kit, tools, hardware datasheet, software datasheet, GUI manual, app notes 
The application software implementing the motor control functionality is pre-developed and programmed within the device at factory production, with specialized application code developed by IDHs (independent design houses). This enables users to add a sophisticated field-oriented motor control functionality without any effort in terms of development, testing, and validation of the implementation.