Published
January 21, 2019
0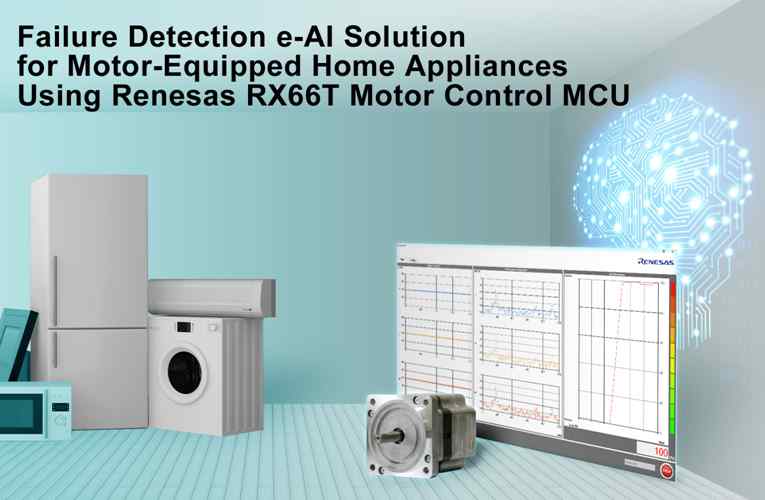 The 32-bit RX66T Microcontroller from Renesas is commonly used for motor control applications since it can simultaneously control up to four motors with a maximum operating frequency of 160MHz. Today Renesas has announced another built-in feature called the e-AI which enables failure detection of home appliances that have a motor inside like, Washing machines, Air Conditioners, Refrigerators etc. The motors current consumption and rotating speed is directly monitored by the Microcontroller to detect any abnormalities eliminating the need of any external sensors and thus reducing the Bill of material (BOM).
Today's modern home appliances like washing machines have more than one motor to be controlled and monitored, considering this the RX66T is featured to control and monitor up to four motors. By monitoring the motor performance, not only the appliances can be saved from serious failure but can also alert the manufacturer for maintenance before even the failure occurs. This assures reliable operation of motors in critical applications. The e-AI can also be trained to understand the nature of the problem and its importance and priorities maintenance schedule accordingly.
The new solution utilizes the Renesas Motor Control Evaluation System and an RX66T CPU card. This hardware is combined with a set of sample program files that run on the RX66T MCU as well as a GUI tool that enables collecting and analyzing property data indicating motor states. In order to detect faults, it is necessary to learn the characteristics of the normal state. Using the GUI tool, system engineers can immediately begin developing AI learning and optimized fault detection functionality. Once the AI models are developed, the e-AI development environment (composed of an e-AI Translator, e-AI Checker, and e-AI Importer) can be easily used to import the learned AI models into the RX66T.