Published
September 4, 2020
0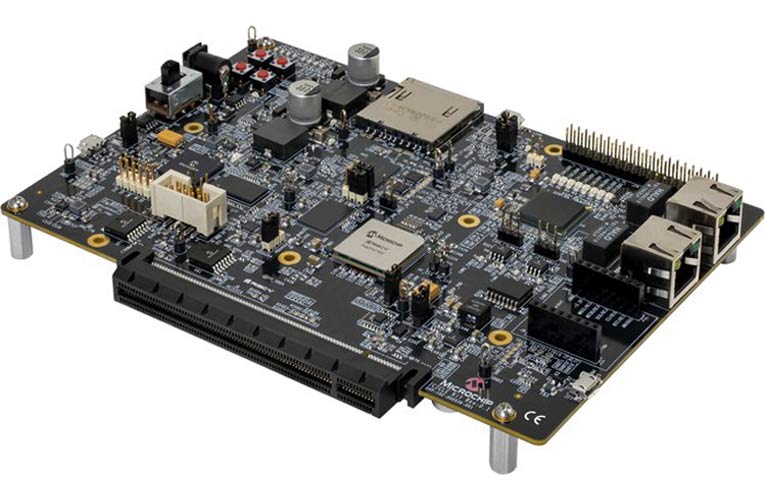 Microchip has come up with the PolarFire SoC Icicle, a development board built around the company's first 64-bit Linux-capable RISC-V CPU cluster and field-programmable gate array (FPGA) system-on-chip (SoC). The Icicle kit includes two gigabit Ethernet ports, a 40-pin general-purpose input/output (GPIO) header compatible with the Raspberry Pi pinout, a mikroBUS socket, a mechanically-16-lane PCI Express Gen. 2 port, micro-USB 2.0 On The Go (OTG), four UARTs on a single micro-USB port, two CAN, one SPI, and one I2C bus.
The Icicle Kit is based on Microchip's PolarFire SoC (MPFS250T-FCVG484EES), which is a system-on-chip that combines the state-of-the-art PolarFire FPGA with a five-core RISC-V microprocessor subsystem by SiFive. FPGA resources including a non-volatile fabric with 254l logic elements, 784-unit math block, and four 12.7Gb/s serializer/deserializer (SERDES) ports make it ideal for developing cutting-edge applications. There's 2GB of LPDDR4 onboard, 1Gb of SPI flash storage, and an 8GB eMMC.
As stated by the company, the Icicle Kit and its robust Mi-V ecosystem of tools enable users to develop cutting-edge applications in embedded machine learning, wired networking, industrial automation, or simply exploring RISC-V and FPGAs.
Fully supported in Microchip's Mi-V ecosystem, the board offers an official toolchain made up of various projects including Yocto Linux, BuildRoot, and FreeBSD on the operating system side, FreeRTOS and Zephyr for real-time operating system (RTOS) users, GCC and IAR compilers, and development tools like Renode and Libero. The PolarFire SoC Icicle Kit however requires a Libero Silver license which is free of charge and valid for one year.
Key Features & Specifications of PolarFire SoC Icicle Kit
PolarFire SoC (MPFS250T-FCVG484EES)

600 MHz clock
1 x RV64IMAC core by SiFive
4 x RV64GC core by SiFive
254K logic elements non-volatile fabric
784 x math block (18 x 18)
4 x 12.7 Gbps SERDES
Secure boot

Memory
Storage

1 Gb SPI flash
8 GB eMMC flash or SD card slot (multiplexed)

Networking
Expansion Interfaces

Raspberry Pi-compatible 40-pin header
mikroBUS socket
PCIe gen2
Micro USB 2.0 Hi-Speed OTG
4 x UART (via single micro USB)
2 x CAN
SPI
I²C

Power

12 VDC / 5 A barrel jack input
On/off switch
I²C power monitor measuring four power rails

User Interfaces

4 x User push button
4 x User LED
4 x Power status LED

Programming & Debugging

UART via micro USB
Onboard JTAG connector or embedded FlashPro6 (multiplexed)
52 x test points
The mass production of the boards has already begun and the boards will be shipped to customers in mid-September 2020. Each board wears a price tag of $489 and the end-users who buy the board through the Crowd Supply are charged $499 ($10 is charged extra for US domestic shipping costs).