Published
March 2, 2021
0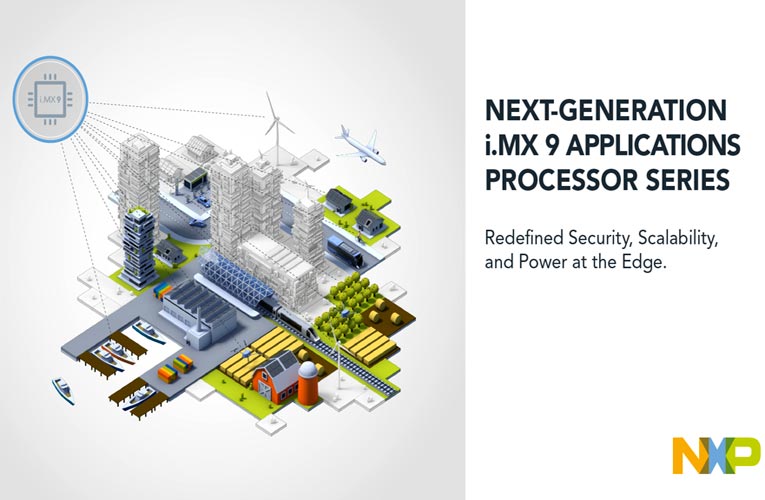 The next-generation i.MX 9 series of high-performance intelligent applications processors from NXP Semiconductors make deploying security, energy efficiency, and scalability for the industrial and IoT edge easy. The new processors from the company are part of the expansion of its EdgeVerse portfolio of crossover applications processors, including i.MX 8ULP and i.MX 8ULP-CS (cloud secured) Microsoft Azure Sphere-certified families.
The i.MX 9 applications processors integrate dedicated neural processing units (NPUs) across the entire series for the acceleration of machine learning applications. These devices implement NXP's innovative Energy Flex architecture and help developers in optimizing energy efficiency and reducing carbon footprint besides improving the battery life.
The implementation of the Arm Ethos U-65 microNPU makes it possible to build low-cost, highly efficient AI solutions in a wide range of embedded devices. Smart home, smart city, and public safety systems, fleet management, precision farming, and agriculture, consumer audio, healthcare, and energy applications where low-power connectivity and machine learning acceleration are its major targeted application areas.
The i.MX 9 processors combine higher performance applications cores, an independent MCU-like real-time domain, energy flex architecture, state-of-the-art security with EdgeLock secure enclave, and dedicated multi-sensory data processing engines (graphics, image, display, audio, and voice).  These processors integrate hardware neural processing units across the entire series for the acceleration of machine learning applications. The first families in i.MX 9 processors series will be built in 16/12nm FinFET class of process technology with specific low power optimization.