Published
April 7, 2021
0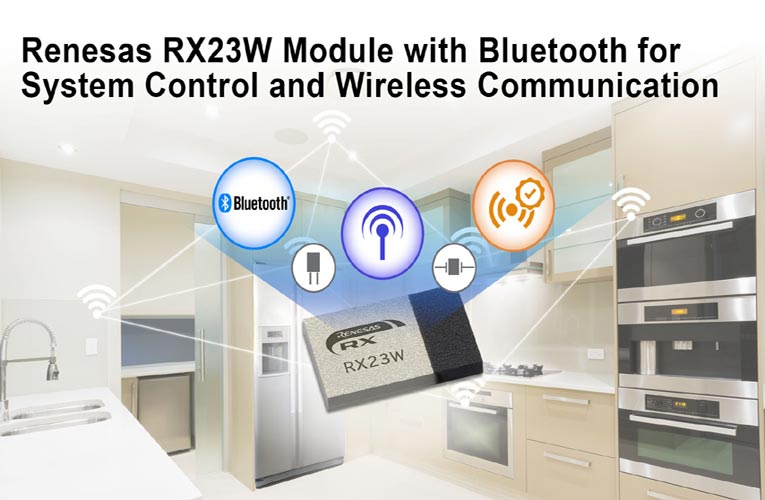 RX23W module from Renesas Electronics Corporation comes with full Bluetooth 5.0 low energy support for system control and wireless communication on IoT endpoint devices such as home appliances, healthcare, sports, and fitness equipment. This new radio law-certified Bluetooth module is equipped with an antenna, oscillator, and custom-matched circuit. The compact 6.1 mm x 9.5 mm, 83-pin LGA package of the module enables users to design compact devices with fewer external components, thereby reducing the bill of materials (BOM) cost.
The RX23W module is certified under Radio Law for multiple countries, including Japan and the United States, and is Bluetooth SIG certified. Therefore, there is no need for additional RF design work, tuning, or specialized RF knowledge. This enables customers to use the module as it is, thereby lessening down the new product development time.
The RX23W MCU that the new module comes endowed with, supports full Bluetooth 5.0 Low Energy communication support including long-range and 2 Mbps data throughput. The device delivers excellent communication characteristics, with a reception sensitivity level of −105 dBm at 125 kbps. The module is built around Renesas' RXv2 CPU core and provides an outstanding computing performance, operating at a maximum clock frequency of 54 MHz delivering high power efficiency making it ideally suited for system control.
Besides, the device incorporates Renesas' exclusive security function, the Trusted Secure IP (TSIP) that provides robust protection against threats to IoT devices such as eavesdropping, tampering, and viruses. Additionally, the device has a rich set of peripheral functions that is an essential requirement for IoT devices, including touch keys, USB, and CAN functions. The RX23W module is available at the reference price of US$6.60 per 10,000-unit quantities, and the company has already started the mass production and shipping of the devices. Also, a target board for evaluation is made available at a reference price of US$50 per unit.