Published
August 5, 2022
0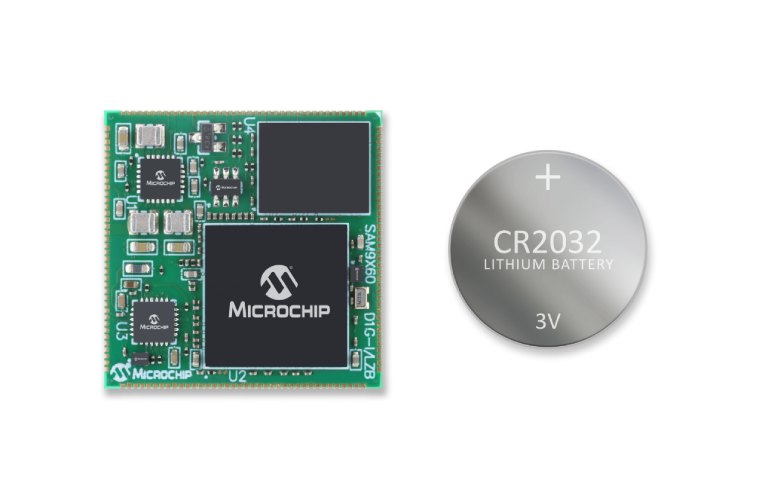 Microchip Technology Inc. has expanded its portfolio of MPU System-on-Modules (SOMs) with the new SAM9X60D1G-SOM ARM926EJ-S-based embedded MPU that is available with bare metal or RTOS support through MPLAB Harmony 3 or complete Linux mainlined distributions. This SOM, based on the SAM9X60D1G System in Package (SiP), is a small 28 mm × 28 mm hand-solderable module that includes the MPU and DDR in a single package, along with power supplies, clocks, and memory storage. 
This SOM is designed for many MPU32 end applications across a variety of industries such as medical equipment, automotive telematics, and infotainment systems, electric vehicle chargers, and industrial and automation control. It is also well suited for products designed for providing computing capabilities with multiple communication interfaces that are qualified once and then customized for separate projects.
SAM9X60D1G-SOM is equipped with 4 Gb SLC NAND Flash to maximize memory storage of data in application devices, while the on-board DDR reduces the supply and price risks associated with memory chips. Its small form factor also includes an MCP16501 Power Management IC (PMIC), which simplifies the power design effort to a single 5V voltage rail to enable lower-power systems. Moreover, to offer the features an Ethernet-connected system might require, this module contains a 10/100 KSZ8081 Ethernet PHY and a 1 Kb Serial EEPROM with a pre-programmed MAC address (EUI-48).
Key Features
4-Gbit NAND Flash Memory
On-Board Power Management Unit (MCP16501TA-E/RMB)
1-Kbit Serial EEPROM with EUI-48™ Node Identity (24AA025E48T-I/OT)
10Base-T/100Base-TX Ethernet PHY (KSZ8081RNAIA-TR)
24-MHz MEMS Oscillator for Main Clock Generation (DSC6102HI2B-024.0000T)
32-kHz Crystal Oscillator for Slow Clock Generation
25-MHz MEMS Oscillator for Ethernet Clock Generation (DSC6102HI2B-025.0000T)
One High-Speed USB Device, Three High-Speed USB Hosts with Dedicated On-Chip Transceivers
Shutdown and Reset Control Pins
Up to 24-bit LCD Interface
28 x 28 mm Module, 0.65-mm Pitch, Manually Solderable for Prototyping
85 I/Os
Independent Power Supplies Available for QSPI Memory and for Backup Depending on Voltage Domains