Published
September 28, 2021
0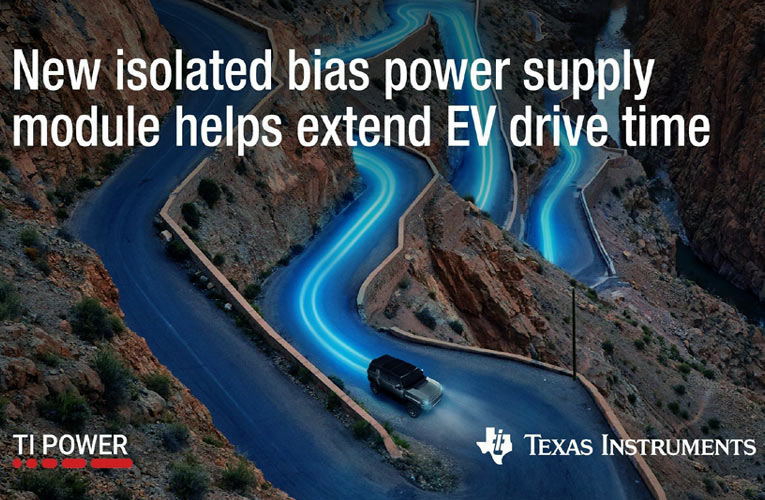 Texas Instruments has released UCC14240-Q1, a 1.5-W isolated DC/DC bias-supply module integrated with transformer technology to help designers in maximizing drive time in hybrid and electric vehicles. Using this new module, designers can cut their power solution size in half for use in high-voltage environments.
The dual-output power module offers 60% efficiency which is twice that of conventional bias supplies, thereby increasing the power density by 2x and increasing vehicle driving range. The UCC14240-Q1 dual-output power module is suitable to be used in electric vehicles, hybrid EVs, motor-drive systems, and grid-tied inverters
The 3.55-mm height and small footprint of the module enable designers to reduce the power solution volume by as much as 50%, packing more power in half the size. By delivering more than 1.5 W at ambient temperatures of 105°C, the UCC14240-Q1 enables engineers to drive isolated gate bipolar transistors (IGBTs), silicon carbide (SiC) and gallium nitride (GaN) switches at high frequencies.
The UCC14240-Q1 offers third-party-certified 3-kVrms isolation integrated closed-loop control enables ±1.0% accuracy from -40°C to 150°C.  The device's tight tolerance enables the use of smaller power switches while also improving overcurrent protection. Moreover, the UCC14240-Q1 can mitigate EMI caused by high-speed switching and comfortably achieve common-mode transient immunity (CMTI) performance of more than 150 V/ns.
Key Features of the UCC14240-Q1 Dual-Output Power Module  
AEC-Q100 qualified for automotive applications – Temperature grade 1: –40°C ≤ TJ ≤ 150°C – Temperature grade 1: –40 °C ≤ TA ≤ 125°C
Fully integrated high-efficiency isolated DC/DC converter with isolation transformer
Isolated DC/DC for driving: IGBTs, SiC FETs
Input voltage range: 21 V to 27 V with 32-V absolute maximum
Adjustable (VDD – VEE) output voltage (with external resistors): 18 V to 25 V, ±1.3 % over a full temperature range
Adjustable (COM – VEE) output voltage (with external resistors): from 2.5 V to (VDD – VEE), ±1.3 %
Low electromagnetic emissions
UVLO, OVLO, Power Good, soft-start, shortcircuit, power-limit, and over-temperature protection
CMTI > 150 kV/µs
36-pin, wide SOIC package
The UCC14240-Q1 is available in pre-production quantities from the company website and pricing starts at US$4.20 in 1,000-unit quantities.