Published
March 31, 2020
0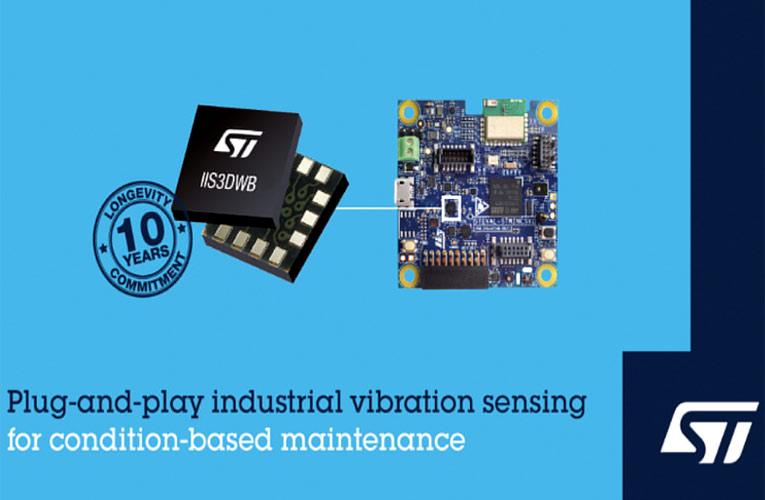 STMicroelectronics has introduced its IIS3DWB vibration sensor and supporting STEVAL-STWINK1 multi-sensor evaluation kit that can accelerate the development of condition-monitoring systems that boost productivity by inferring equipment maintenance needs. The owners can create strategies that maximize uptime, minimize servicing costs, and avoid emergency repairs with the help of the sensed data locally or in the cloud.
The IIS3DWB 3-axis ultra Wide bandwidth MEMS accelerometer detects vibrations in the machines with a fully flat frequency response with low noise up to 6kHz along with sharp cutoff and high attenuation to remove frequency aliasing concerns and to detect machine-related faults with accuracy and consistency.
Features of IIS3DWB Vibration Sensor
Accelerometer with wide and flat frequency response over 3-axis saves external signal conditioning and complexity needed by competing sensors
Digital plug-and-play capability, integrating signal conditioning, analog-to-digital converter (ADC), filtering, and bandwidth equalization on-chip
Low noise: 75µg/√Hz in 3-axis mode or 60µg/√Hz in single-axis mode selectable on the fly
-40°C to 105°C operating-temperature range
1.1mA operating current at full performance in all three axes
Low power consumption maximizes the operating lifetime of independently powered sensor nodes
The STEVAL-STWINKT1 evaluation kit integrates multiple miniature sensors on-board and simplifies prototype and testing by integrating the IIS3DWB with additional sensors, an ultra-low-power microcontroller, and algorithms for vibration processing, Bluetooth® wireless module, and USB connection. The built-in Bluetooth Low Energy radio connects to an edge device or directly to the internet.
Features of the STEVAL-STWINKT1 Evaluation kit
Best-in-class industrial sensors: inertial sensors, temperature, pressure, and humidity sensors, and digital and wide-bandwidth analog microphones
Ultra-low-power Arm® Cortex®-M4 MCU (STM32L4R9ZI) running at 120MHz with FPU, 2048 kbytes Flash, and optimized power management
On-board footprint for STSAFE-100 secure element IC for secure connection and authentication
Wireless BLE4.2 on-board and wired RS485 and USB OTG connectivity
Preprocessing algorithms for vibration analysis: RMS moving average and programmable FFT (overlapping, averaging, windowing)
High-speed data logging with real-time storage on SD-CARD and streaming via USB of data from multiple (22) sensors at their maximum resolution (ODR)
Companion cloud application and dashboard
Optional Wi-Fi expansion board (STEVAL-STWINWFV1), and STMod+ cellular expansion board from the P-L496G-CELL02 kit
The many on-board features let solution integrators bypass labor-intensive sensor integration to focus on their application and accelerate time to market and offer advanced software features like high-speed data logging for the benefits of the new field of exploration like machine learning and AI. The kit is housed in a plastic enclosure with a battery, and ready to be used in application development, the high-speed data-logger and cloud dashboard utilities are included to help collect, analyze, and visualize the results.
The IIS3DWB vibration-sensing system-in-package is in production now and available for $9.00 in a 14-lead plastic land grid array (LGA) package. The STEVAL-STWINKT1 is available from ST for $99.00.