Published
June 30, 2020
0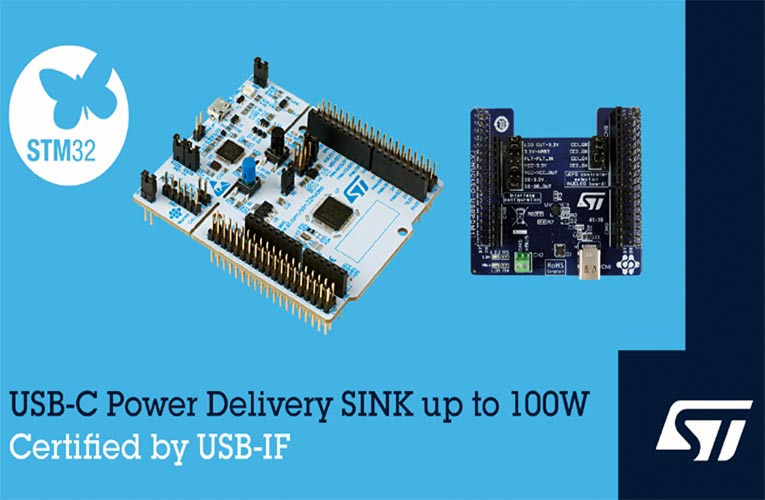 STMicroelectronics facilitate the modernization of battery-powered products to capture the advantages of the latest USB Power Delivery (USB PD) technology, including faster charging and easy reuse of USB-C chargers. The new USB PD chargers can have a power rating up to 100W, by using the USB Programmable Power Supply (PPS) charging can be optimized by dynamically adjusting current and voltage.
The USB Implementers Forum (USB-IF) certified evaluation board from ST can help the developers accelerate new designs and support certification of the end product. The new device combines ST's Nucleo-G071RB and X-Nucleo-USBPDM1 development boards, the STM32G0 microcontroller in the Nucleo-G071RB integrates the USB Type-C Power Delivery controller on the chip to provide better system integration and to sipper new applications use cases. The X-Nucleo-USBPDM1 board also contains ST's TCPP01-M12 companion chip for port protection.
The devices that are traditionally recharged at 5V through older USB micro-B or proprietary connectors like the smart speakers, power tools, wearables, robots, gaming controllers, power banks, and drones can use the new ecosystem to benefit from the advantages and interoperability of USB-C technology while charging faster.
The STM32G0 MCU and TCPP01-M12 provide an efficient and economical two-chip solution that is capable of controlling and protecting the USB PD capable USB Type-C port as well as hosting the embedded application.
The TCPP01-M12 companion high-voltage analog front end integrates a charge pump to control the gate of an external power switch, this allows the designers to choose from economical N-channel MOSFETs that have lower RDS (on) than P-channel alternative. It comes in a QFN12 package that occupies 80% less board space than a discrete implementation. The TCPP01-M12 is designed with adjustable 5V to 22V overvoltage protection on VBUS, short-to-VBUS protection on configuration channel pins, dead-battery management, and IEC 61000-4-2 ESD protection up to ±8kV on VBUS and CC lines.