Published
August 9, 2016
0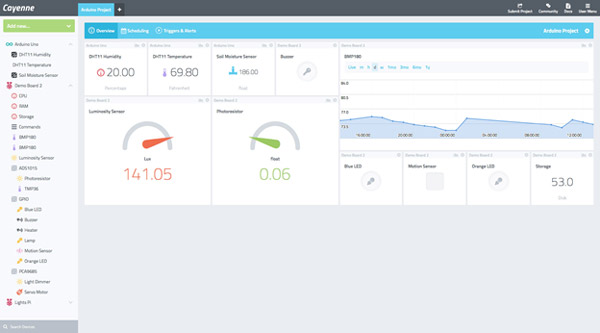 Los Angeles, CA – August 9, 2016 — myDevices, the Internet of Things (IoT) solutions company that "simplifies the connected world" and creators of Cayenne, the first drag-and-drop IoT project builder, today announced its solution integration with Arduino, the world's leading open-source software and hardware ecosystem. 
Arduino gives IoT developers a number of features when choosing the perfect board including WiFi, BLE, IR, NFC, Ethernet, and more. Because of its openness, flexibility, ease of use, and affordability, Arduino has become the number one choice for developing solutions for the IoT, which has been predicted to become a $6 trillion market by 2021. Cayenne further simplifies the development process by providing tools to easily and quickly visualize sensor data and control actuators using a web dashboard or smartphone app. This no-hassle visualization is possible because Cayenne's cloud service is securely connected to Arduino microcontrollers. The ability to build and manage IoT prototypes with Cayenne's full-featured IoT Project Builder is as easy as drag, drop, and configure.
"We are especially excited about this partnership with myDevices since it easily enables Arduino users to create a clean graphical user interface that anyone can operate," said Kathy Giori, VP Operations, Arduino S.r.L. "Giving developers the tools to build prototypes and products quickly, without having to learn advanced programming, makes it possible for engineers and entrepreneurs to take part in the booming IoT market. We're seeing many projects turn into commercial business because of the democratization of these technologies. This partnership combines affordable hardware and intuitive software to help developers bring ideas to life."
HexCorp, a product design consulting firm, conducted an independent benchmark study with Cayenne. "We compared the amount of time it took for two teams to build the same simple IoT project with and without Cayenne using an Arduino Uno, a temperature sensor, and an LED light bulb. Our tests indicate that the team utilizing Cayenne was 6X faster in developing their IoT project and eliminated at least 27 manual steps compared to the team building with the standard method," says Mike Hexter, Founder of HexCorp. "Cayenne streamlined the onboarding process and also eliminated many of the common human-induced errors associated with coding."
Exclusive date visualization features and functionality include:
Drag-and-drop widgets to create a customized project dashboard
Sketch files provided to quickly and securely connect Arduino hardware
Visualize Arduino sensor data with minimal setup
Create triggers & alerts between different platforms (supports both Arduino and Raspberry Pi hardware)
Ability to create widgets for any connected sensor or actuator
"There has been an overwhelming response to Cayenne from end-users, industry media, and analysts since Cayenne's debut at the beginning of the year," says Kevin Bromber, CEO of myDevices. "Existing Cayenne users have just surpassed 4 billion IoT events on our platform utilizing features such as threshold alerts, sensor history and rules engine triggers. This release of Cayenne with Arduino support is yet another key milestone in our objective to expand availability and eventually make Cayenne the industry standard for IoT project building, similar to how AutoCad is the de facto software for architects and 3D visualization."
To sign up for a free Cayenne account, go to www.cayenne-mydevices.com
Watch video: Get Started with Arduino
About myDevices
myDevices, an IoT solutions company, is the creator of Cayenne, the world's first drag-and-drop IoT Project Builder, which enables customers to bring their IoT projects from prototype to mass production. The company also hosts a vibrant online community of IoT developers where users collaborate and share information. myDevices' connectivity and device-agnostic technology empowers engineers and enterprise partners to easily develop and deploy IoT solutions into their existing infrastructure and business. myDevices is headquartered in Los Angeles, CA, and is a division of Avanquest. For more information please visit www.myDevices.com
Media Contact:
Jake White
About Arduino
Arduino S.r.L. is the world's leading open-source software and hardware ecosystem. The Company offers IoT developers and Makers of all ages the ability to build smart, connected and interactive devices using affordable technologies. Please check us out at www.arduino.org. 
Media Contact:
Kelly Brieger
Screenshots:
Cayenne for Arduino Dashboard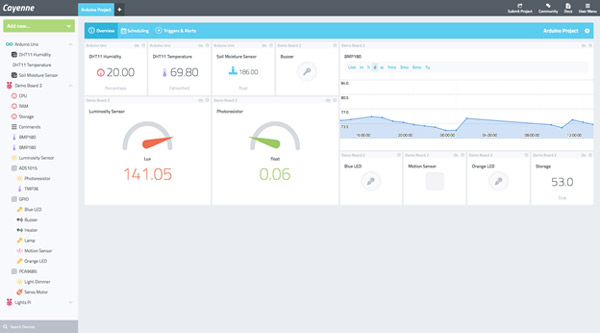 Cayenne for Arduino Triggers & Alerts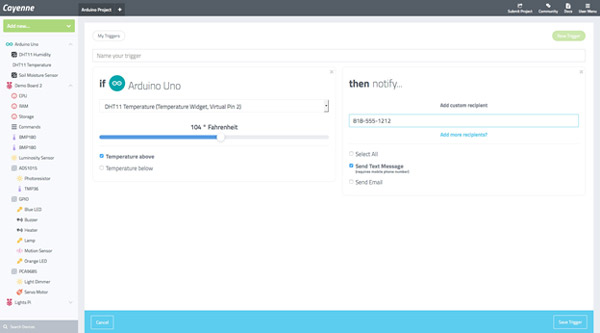 Cayenne for Arduino Provided Sketch File Code
Cayenne for Arduino App – Dashboard
Cayenne for Arduino App – Connect Arduino Board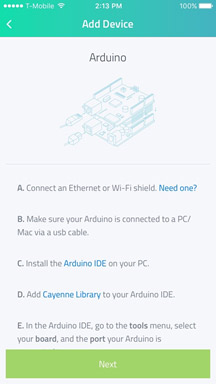 Cayenne for Arduino App – Add Device