Published
July 12, 2022
0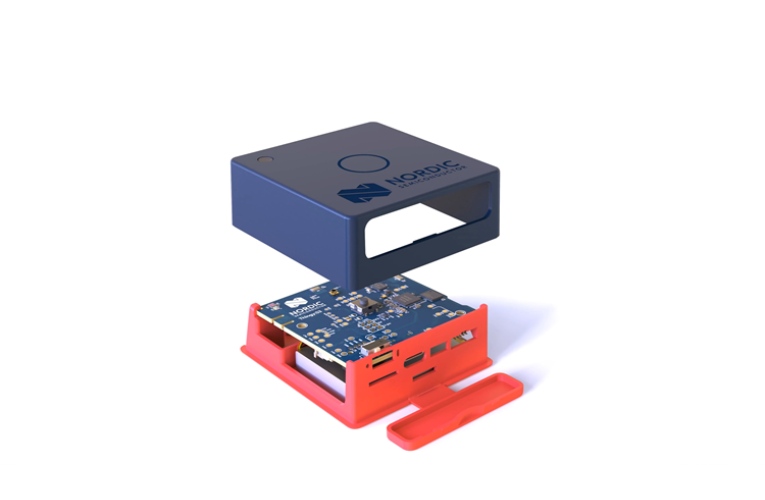 Nordic Semiconductor has announced the new multisensor prototyping platform 'Nordic Thingy:53' that comes with multiprotocol short-range wireless connectivity and support for embedded machine learning (ML). This product is the ideal platform for building advanced wireless proofs-of-concept and prototypes with ML capabilities on the shortest development schedules. This prototyping platform has a rechargeable 1350 mAh Li-poly battery and multiple motion and environmental sensors.
Thingy:53 is based on Nordic's nRF5340 dual-core Arm Cortex M-33 advanced multiprotocol System-on-Chip and incorporates the company's nPM1100 Power Management IC and nRF21540 Front End Module, a power amplifier/low noise amplifier (PA/LNA) range extender. It supports Bluetooth Low Energy (Bluetooth LE), Thread, Matter, Zigbee, IEEE 802.15.4, NFC, and Bluetooth mesh RF protocols, and comes with pre-installed firmware for embedded ML directly on the Thingy:53.   
The nRF5340 SoC at the heart of the Thingy:53 features a dedicated application processor and a network processor. The Arm Cortex-M33 application processor is clocked at 128 MHz and ensures the prototyping platform can handle advanced algorithms and the complex computational tasks associated with embedded ML. The network processor is designed for power-efficient operation and features its own computational resources, thus ensuring robust wireless connectivity without compromising application software execution.