Published
April 26, 2021
0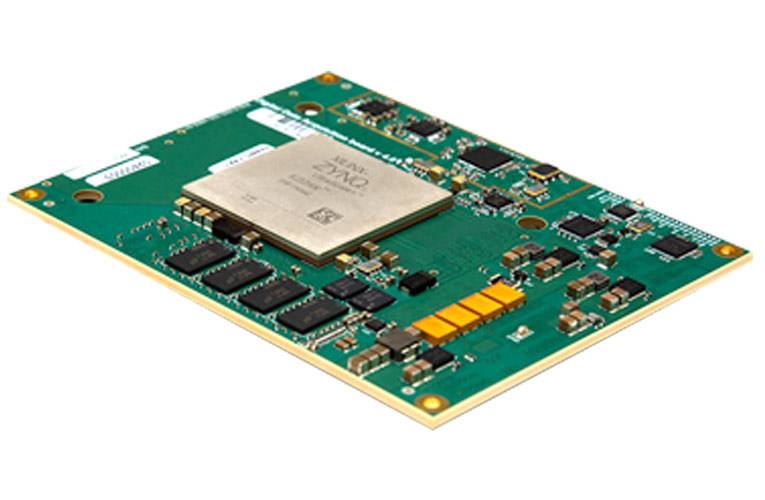 The XRF8™ Xilinx RFSoC Gen 3 system-on-module is now available from Avnet. The XRF8 module and Avalon™ software suite enable production-ready system development using the Xilinx ZynqUltraScale+ RFSoC Gen3 for RF applications demanding small footprint, high-speed serial connectivity and real-time processing. It is capable of RF direct conversion of signals with analog bandwidth up to 6 GHZ This new module can digitize 8 ADC channels at 6 Giga-samples per second (GSPS) and generate complex (I/Q) waveforms through 8 DAC channels at 10 GSPS. 
The production-ready XRF8 RFSoC System-on-Module is capable of RF direct conversion of signals with analog bandwidth up to 6 GHz. The baseband processing and network interface are handled by the Xilinx UltraScale+ RFSoC integrated quad Arm Cortex-A53 processing subsystem and programmable logic. Besides, standard peripherals such as USB, Gigabit Ethernet, and serial UART are included.
Users can combine the XRF8 module with the XRF8 Carrier Card and Avalon software suite to jump-start proof-of-concept and application development. Thereafter, they can deploy their system with the same XRF8 module (used for proof-of-concept). The high-speed digital and precision RF signals in a small form factor pose unique routing and isolation challenges.
The module and companion carrier card leverage RF and signal integrity design techniques to provide high-speed connectivity across the platform. This enables system architects and designers to develop next-gen RF applications with confidence the XRF8 delivers the system performance needed. The Avnet XRF8 modules are available for $22,995 (USD). Besides, the companion carrier card is also available for $4,995 (USD).
Key Features of Xilinx Zynq UltraScale+ Gen3 ZU47DR RFSoC
8x ADCs, 14-bit up to 5.0 GSPS
8x DACs, 14-bit up to 10 GSPS
Quad-core Arm Cortex-A53 processing subsystem
1 GbE, PCIe Gen1/2, SATA, USB2/3
UltraScale+ programmable logic
High-speed data transfer
8x 28Gbps serial links for supporting 10/25/100 GbE and Xilinx Aurora
Quad Mesh firmware interface streams data with four peers concurrently, facilitating tiling in high-performance real-time systems
Ultra-low jitter programmable sampling clocks
External or onboard programmable TCXO reference clock
Phase coherent synchronous sampling across all converters and multiple boards