Published
April 13, 2018
0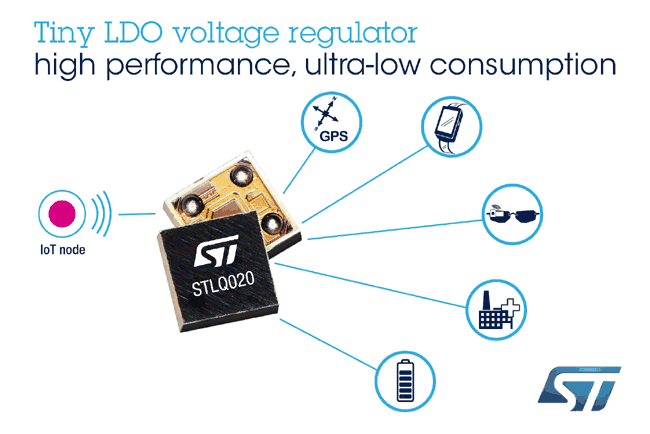 STLQ020 trade-offs between quiescent current, output power, dynamic response and package size to give designers extra freedom.
STLQ020 low-dropout (LDO) voltage regulator comes in smaller size with high performance and energy efficient. It's ideal for use in battery-powered consumer products like tablets, smart phones, smart watches, and other electronic wearables. Also, helps in extending battery life for IoT based devices like smart meters, wireless sensors, healthcare devices.
STLQ020 draws 300nA of quiescent current and have the ability to supply up to 200mA of current to the load with excellent regulation, power-supply rejection and transient response. Available in three packages of dimension 0.8mm x 0.8mm flip-chip4, 2mm x 2mm DFN6, and 2.1mm x 2.0mm SOT323-5L.
STLQ020 also have an advantage of its 5nA logic-controlled shutdown mode .The unique design with low power and adaptive bias circuitry which ensures fast response and also a stable output. The dropout voltage is also low as 160mV and extend the interval between coin-cell replacements in low-duty cycle applications like remote sensors.
STLQ020 have and input voltage range of 2 to 5.5v, also directly powered through suitable battery voltage or logic rail. The output voltage can be set in between 0.8v to 4.5v, comes in a design of fixed-output or adjustable-output. Design with Fixed-output voltages are selectable in 50mV increments.