Published
October 20, 2022
0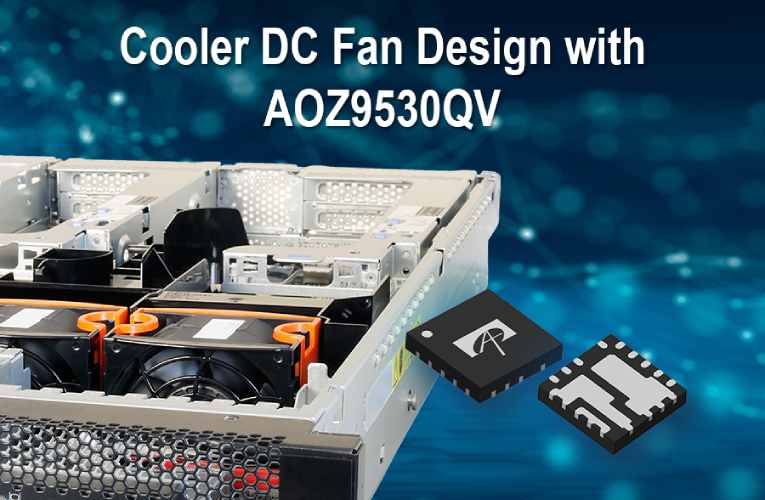 Alpha and Omega Semiconductor Limited has extended its compact Smart Motor Module (SMM) family with the new highly integrated AOZ9530QV SMM that is available in an ultra-compact, thermally enhanced 3mm x 3mm QFN-18L package. The AOZ9530QV SMM is a half-bridge power stage with a slew of features and protections that simplify motor drive designs and is suitable for use in many BLDC fan applications ranging from PC and server fans, seat cooling, and home appliances.
The new AOZ9530QV features multiple advanced protection functions, including short circuit protection, over-temperature protection, Vcc UVLO, and bootstrap UVLO. With an input voltage of up to 28 V and supporting high current of up to 7 A, it has a wide operating (-40°C to +125°C) ambient temperature range and offers 100 percent pulse-width modulation (PWM) duty operation support. Moreover, it also provides an adjustable gate drive sink and source current control that allows designers to minimize EMI while maximizing power efficiency.
Key Features
Smallest 3x3 QFN-18L SMM package helps reduce layout space/PCB size
Integrated bootstrap diode
Adjustable gate drive current control for EMI and enhanced efficiency
Self-powered Vcc
Included multiple protections (OTP, SCP, Vcc UVLO, Bootstrap UVLO)
Wide input operation voltage up to 28V, supports output current up to 7A
Supports 100% PWM duty operation
Low 11mOhm RDS(ON) internal NFETs in half bridge configuration
The AOZ9530QV SMM is now available in production quantities with a lead-time of 24 weeks. The unit price in 1,000-piece quantities is $1.00 USD.