Published
January 29, 2021
0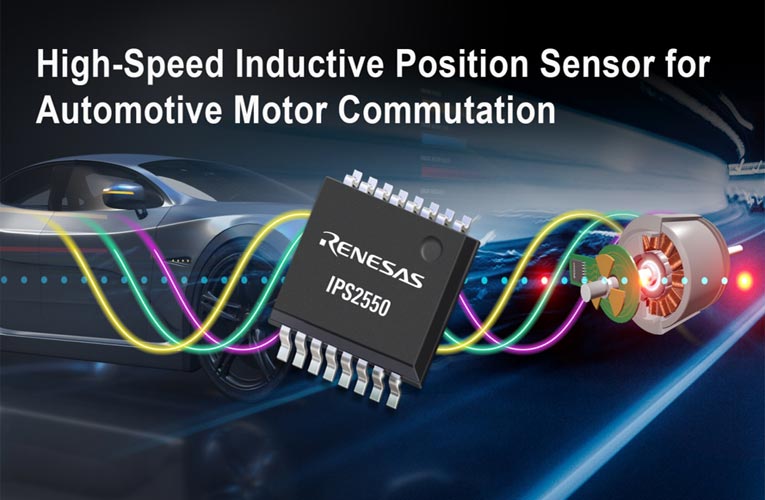 Renesas Electronics has introduced a new magnet-free inductive position sensor, IPS2550 that delivers high accuracy, easy customization, and smaller weight and size with total stray field immunity for automotive applications. This new device is ideal for use as an absolute position sensor for high-speed motor commutation in passenger cars, heavy-duty commercial and off-road vehicles as well as motorbikes.
Based on Renesas' inductive position sensing technology, the IPS2550 magnet-free sensor delivers speeds up to 600 krpm (electrical) and is designed around the motor, accommodating both off-axis (through shaft and side shaft) and on-axis positioning.  The new sensor enables customers to affordably tailor sensor design for various applications and maximize accuracy. This sensor can be combined with Renesas microcontrollers (MCUs), gate drivers, and motor drivers for traction motors, electronic power steering, starter generators, and other motor applications. The total stray field immunity feature enables easier motor integration and offers the standard materials required for customers to manufacture their resolver replacement thereby reducing bill of materials costs.
The AEC-Q100 qualified sensor offers stable operation in harsh environments and -40° to +160° C ambient temperatures. High flexibility with scalability based on the number of motor pole pairs, supporting on-axis, off-axis, and side-shaft alignment, enhanced accuracy and production stability with sin/cos gain mismatch and offset compensation and up to 600 krpm (electrical) rotational speed are the key features of the new sensor. The IPS2550 sensor is available with prices starting at USD 4.76 per unit in 1,000-unit quantities. The IPS2500STKIT evaluation kit is also available from the company website.