Published
December 10, 2020
0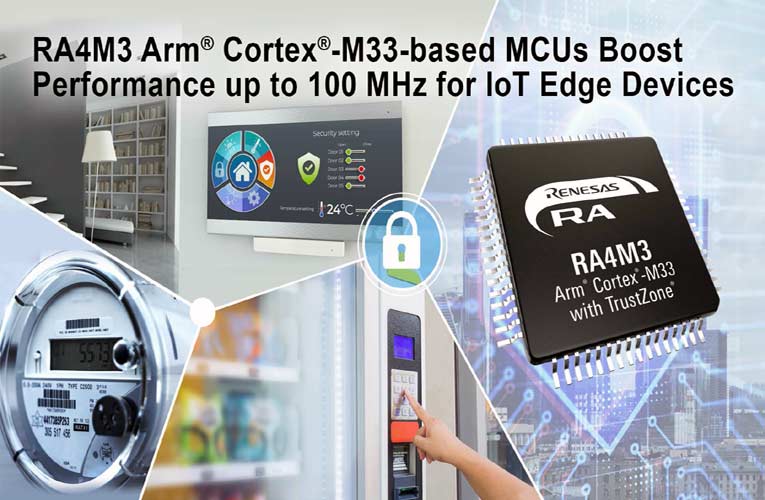 The new Arm Cortex-based 32-bit RA4M3 microcontrollers from Renesas can boost the operating performance up to 100 MHz in Low-power Metering, Industrial, HVAC, and IoT applications. Combining TrustZone technology with Renesas' enhanced Secure Crypto Engine, these new microcontrollers enable customers to realize secure element functionality in a wide variety of IoT-edge devices.
The RA4M3 microcontrollers are built on a highly efficient 40 nm process and come in a Flexible Software Package (FSP). The devices are built on FreeRTOS and are expandable to use other RTOSes and middleware. These microcontrollers offer vast communication options, future proof security, large embedded RAM, and low active power consumption down to 119µA/MHz running the CoreMark algorithm from Flash.
Other notable features of these microcontrollers include up to 1 MB code flash memory with background and SWAP operation, 8 KB Data flash memory, 128 KB SRAM with Parity/ECC, high-integration with USB 2.0 full-speed, SDHI, Quad SPI, and advanced analog. These features enable RA4M3 MCUs to facilitate design scalability and efficient platform-based product development. The RA4M3 MCUs also offer several integrated features to lower BOM costs, including capacitive touch sensing, embedded flash memory densities up to 1 MB, and analog, communications, and memory peripherals.
Key Features of the RA4M3 Microcontrollers
100 MHz Arm Cortex-M33 with TrustZone technology on a 40nm process
Integrated 1 MB flash memory, 128 KB RAM, 8 KB Data Flash, and 1 KB stand-by SRAM
Low power consumption delivering an operating current of 119 μA/MHz in active mode and 1.6 mA standby current with 30 µs wakeup time
Background operation and Block SWAP function for the flash memory
Capacitive touch sensing unit
Multiple interfaces including Quad SPI and SDHI memory interfaces, SSI, USB2.0 Full Speed, SCI, and SPI/I2C
Scalable from 64-pin to 144-pin LQFP packages (including LGA- and BGA-ready options)
The RA4M3 MCUs are available now from the worldwide distributors of Renesas Electronics.