Published
June 30, 2021
0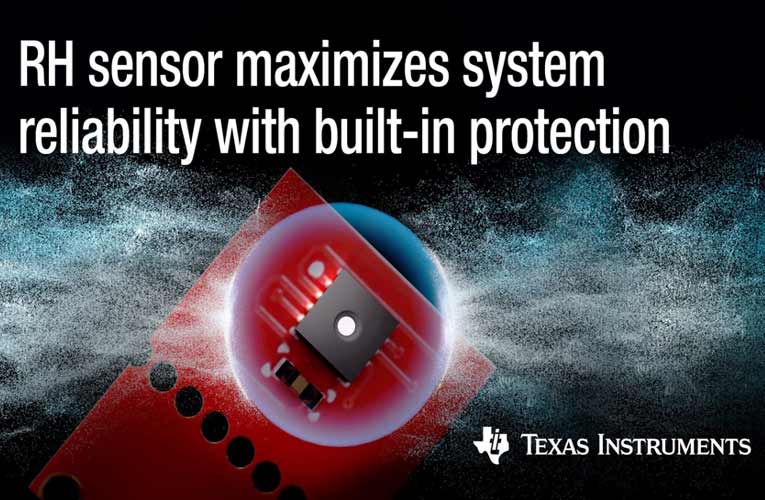 Ensuring to optimize system efficiency and extend industrial and automotive system lifetimes, the two new humidity sensors, HDC3020 and HDC3020-Q1 from Texas Instruments provide high reliability and built-in resistance to contaminants and harsh environments. With extremely high accuracy and low power, these new humidity sensors offer improved relative humidity measurement accuracy with a reduced long-term error when compared to existing RH sensors available in the market.
The HDC3020 sensor and HDC3020-Q1 sensor preserve data integrity under stress conditions and provide integrated correction to adapt to drift caused by natural aging, environmental stress, or interactions with contaminants. With less than 0.21% RH accuracy drift per year and less than 5% RH drift from temperature and humidity stress (tested up to 85% RH and 85°C), these devices ensure to achieve low drift in extreme conditions. Additionally, these sensors also provide a second line of defense when exposed to stress or containments where even a small accuracy drift from the sensor's time-zero specification can be removed using integrated drift correction technology.
Moreover, the devices provide high accuracy (verified with a procedure traceable to the National Institute of Standards and Technology) across full supply voltage of 1.62 V to 5.5 V and the widest temperature and humidity range at ±1.5% RH. Available in several pin-to-pin compatible package cover options, such as removable polyimide tape and permanent IP67-rated filter covers, these sensors are protected against dust and moisture for the devices during assembly and system lifetimes. The ultra-low power consumption (nano ampere) across a wide supply range from 1.62 V to 5.5 V enables low-power operation both while a system is actively running and in sleep mode. Preproduction versions of the HDC3020 and HDC3020-Q1 sensors are available exclusively from the company website with a price range starting from US$1.65 in 1,000-unit quantities.