Published
March 26, 2021
0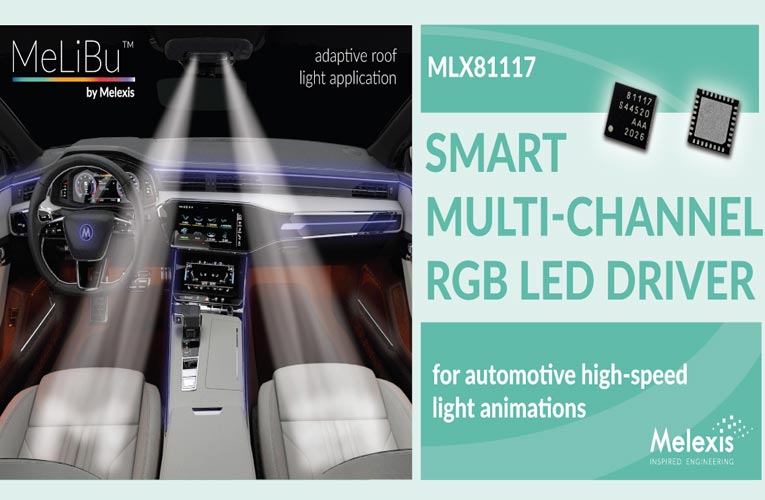 MLX81117 from Melexis is the fully integrated smart multichannel RGB LED driver that supports MeLiBu high-speed communication license-free IP for automotive light animations. Integrated with high-speed communication interface IP, this multi-channel RGB LED driver maintains consistent color across all of the LEDs in the lightbar and implements simultaneous light changes in driver-assistance prompts, vehicle status updates, or advanced comfort functions like adaptive roof light.
The MLX81117 RGB LED driver IC also provides real-time compensation of any color drift caused by environmental changes and color-mixing accuracy with a delta UV of <0.01% to eliminate any distinguishable differences between LEDs. The device comes with CAN-FD physical layer that enables it to deliver robust and reliable performance at up to 2 Mbit speeds.
The MLX81117 LED driver IC comes with brightness control across a wide dimming range for enabling adjustments for natural light levels. It is compliant with SO 26262 functional safety requirements up to safety integrity level B (ASIL B) and its intelligent and high-resolution operation helps mitigate temperature-related color drift. Additionally, it delivers low EMI and high levels of immunity thereby enabling designers to meet EMC regulations.
Key Features of MLX81117 RGB LED Driver IC
MCU for extended LED control algorithm, color mixing, and full diagnosis
Red/Green and Blue LED temperature compensation without additional external components
Color mixing accuracy of < 1% delta UV
16-bit color/intensity control
Storage of LED calibration data directly within LED driver
MeLiBu  communication interface
Real-time update of > 250 RGB LEDs without delay
5.5 - 18 V supply voltage (40 V proof)
ASIL B classification
QFN32 5x5 package, 32 pins
16 LED drivers