Published
February 10, 2021
0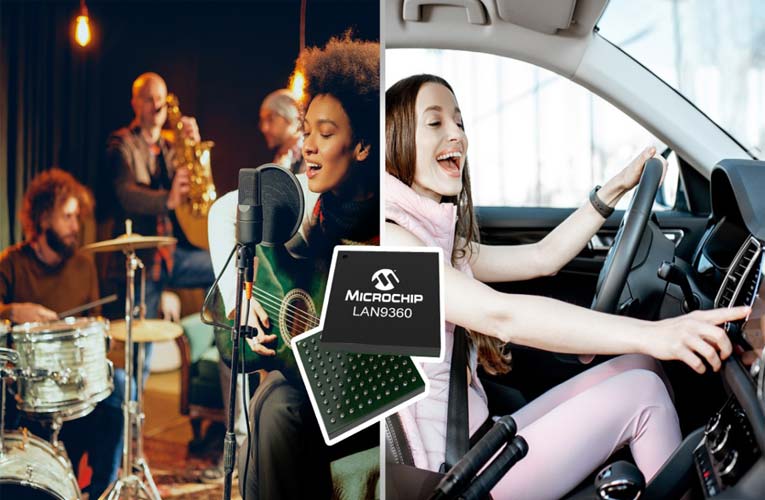 LAN9360 from Microchip is the recently released fully integrated AVB audio endpoint solution that helps in reducing development time and eliminates the need for stack integration and additional software and firmware development. This single-chip Ethernet controller with embedded protocols interconnects the infotainment devices of the vehicle such as speakers, amplifiers, microphones, navigation systems, radio tuners, and smart headrests with Ethernet AVB.
The LAN9360 audio endpoint controller bridges audio between Ethernet AVB and Inter-IC Sound (I2S), Time Division Multiplexing (TDM), and Pulse Density Modulation (PDM) local audio interfaces. It supports audio transmission over Ethernet AVB, including generalized Precision Time Protocol gPTP, timestamping, transport protocols, and content protection with High-bandwidth Digital Content Protection (HDCP).
Additionally, the device also supports secure boot and secure remote updates over Ethernet. Unlike other Ethernet bridging networking solutions, the LAN9360 endpoint device requires no software integration System-on-Chip (SoC) microcontrollers (MCUs) and third-party software stacks thereby enabling designers to configure the device simply and speedily while meeting manufacturers' unique audio and networking requirements.
Features of LAN9360 Single-Chip Ethernet Audio Endpoint Controller
AVB out-of-the-Box
gPTP - IEEE802.1AS
IEEE1722 AVTP Talker and Listener
IEEE1733 RTP Talker and Listener
Supports up to 40 Audio Channel
Supports up to 7 AVB Audio Streams
Security: HDCP, secure boot, secure update
A development board and Microchip's MPLAB Network Creator are available to configure the LAN9360 audio endpoint controller using an intuitive graphical user interface. As far as pricing and availability are concerned, Microchip's LAN9360 endpoint device is available for volume orders in a 100-Thin Profile Fine Pitch Ball (TFBGA) package from the company website.