Published
January 21, 2022
0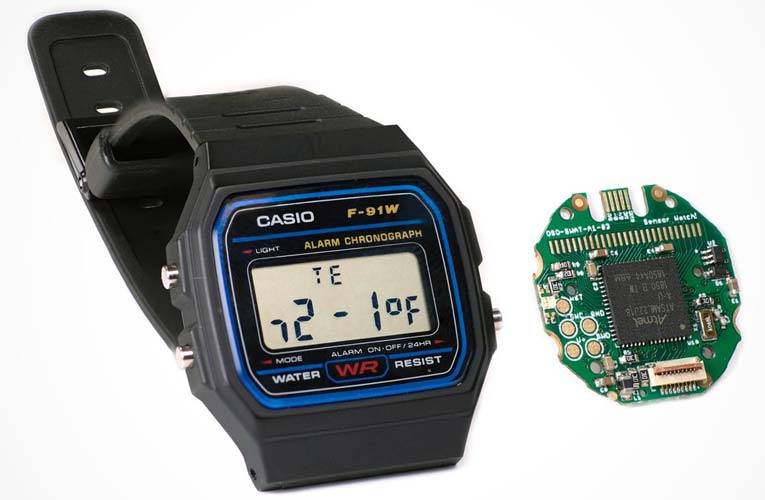 The new open-source Sensor Watch from Crowd Supply provides an easy way for you to transform a classic Casio watch into a hackable ARM Cortex M0+ wearable. This Sensor Watch is an upgrade for the classic Casio F-91W digital wristwatch and has been designed to replace the standard quartz movement of the watch with a custom circuit board powered by an ARM Cortex M0+ microcontroller.
This Sensor Watch is open source and easily hackable, which means you can write the apps that make sense for you. It comes with a temperature sensor board which you can replace with a phototransistor board for light metering, a microphone for tracking noise exposure, or, an accelerometer for activity tracking. Sensor Watch leaves a 5.7 × 5.7 × 1 mm area free for whatever sensors you want to add. It's a small volume, but modern MEMS technology allows smaller sensors to do more than ever before.
Sensor Watch Specifications
ARM Cortex M0+ microcontroller
32 kHz crystal for real-time clock functionality with alarm support
Red & green PWM'able LED backlight (red & blue on early-bird boards)
On-board USB Micro B connector
Reset button with double-tap UF2 bootloader
Nine-pin flex PCB connector for sensor boards
Controller for ten digit segment LCD, plus five indicator segments
Edge-plated contacts for three interrupt-capable buttons
Connection pad for piezo buzzer (requires light soldering)
At the heart of the Sensor Watch is a custom printed circuit board with a SAM L22 ARM Cortex-M0+ 32 MHz microcontroller featuring 256KB of flash storage and 32KB of RAM. The board has built-in USB support, which allows you to plug it into a computer like a USB flash drive for programming purposes. In addition to these familiar peripherals, the SAM L22 packs one less familiar one: a segment LCD controller that speaks the native language of the F-91W's display glass, and it's the key to the unique low power capabilities of Sensor Watch.