Published
January 20, 2022
0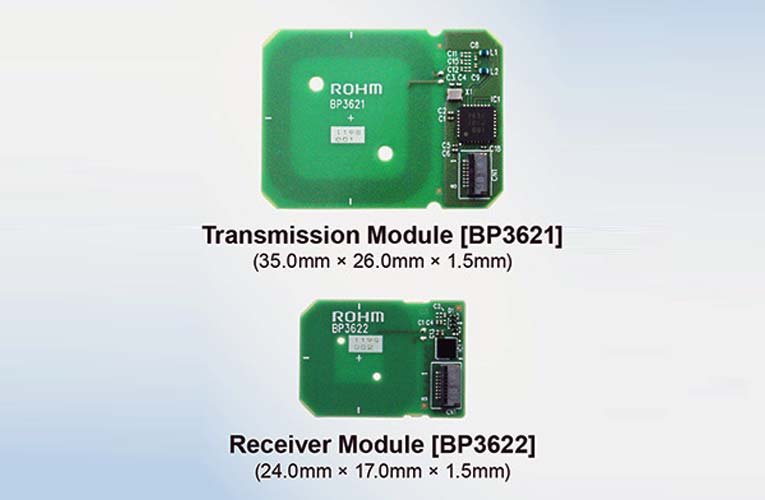 ROHM has developed compact wireless charger modules BP3621 (transmitter) and BP3622 (receiver) with an integrated antenna board that allow to add wireless power supply functionality to smaller devices such as smart tags/cards or PC peripherals. These new 13.56MHz wireless charging modules are designed for compact sensors and wearable devices and deliver up to 200mW of power.
These new modules utilize the magnetic resonance method in the 13.56MHz frequency band to reduce antenna size and wireless charging provides greater reliability through improved resistance to dust and water by eliminating physical terminals, while the full-flat backside structure with front-mounted components contributes to simpler housing structures and greater design flexibility.
Key Features
Modular design with integrated antenna board makes it easy to achieve wireless charging functionality, significantly reducing development load
Adopting the 13.56MHz frequency band contributes to greater miniaturization, delivering greater design flexibility
Integrated antenna expands communication functionality
Moreover, the same frequency band as the NFC communication standard is used, allowing the built-in antenna to transmit both data and power. Both bidirectional data communication (256B Max. at 212kbps) and NFC Forum Type 3 Tag transmission are supported, allowing for functions ranging from firmware download and secure data transfer and rewriting of sensor/device/authentication information to battery output voltage values.