Published
March 13, 2020
0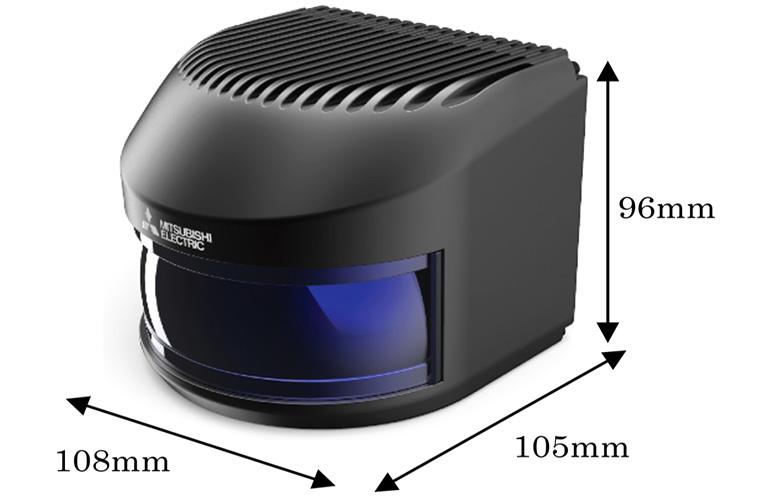 Mitsubishi Electric Corporation has released a compact and low-cost LiDAR solution to enhance the safety and security of self-driving vehicles. Equipped with a micro-electromechanical system (MEMS), the LiDAR product offers an extra-wide horizontal scanning angle to autonomous vehicles and helps improve the accuracy in detecting the shapes and distance of objects.
Irradiating objects by laser and using a dual-axis MEMS mirror, it can scan for the reflected light, generating three-dimensional images of vehicles and pedestrians. This new LiDAR uses the biggest electromagnetic MEMS mirror in the industry, with dimensions of 7mm by 5mm for a wide scanning angle and boosting the accuracy of vehicle periphery monitoring.
The large dual-axis electromagnetic mirror is one of the important features of the product. It can achieve a vertical movement of ±3.4 degrees and a horizontal movement of ±15 degrees. Mitsubishi aims to increase the vertical movement to ±6.0 degrees or higher by enhancing the beam structure of the MEMS. The MEMS mirror can be produced in large numbers on a silicon substrate using semiconductor processing technology and uses fewer parts compared with mirrors driven mechanically by motors.
The arrangement of the MEMS mirror and optical components has been optimized to suppress vignetting and avoid the laser beam being distorted by the LiDAR's internal components. The design and optical transmission mechanism help achieve an extra-wide horizontal scanning angle, thereby enhancing the scanning of vehicles ahead, oncoming vehicles, pedestrians, traffic lights, traffic signs, roadside obstacles, etc. The company aims to achieve a vertical scanning angle exceeding 25° so that vehicles and pedestrians can be detected in close proximity as well.