Published
March 18, 2021
0
To meet market demand for a residential and commercial EV charging station, LEM has introduced a compact leakage current sensor, CDSR that will make charging infrastructure more affordable, safer, and reliable for the future. This new sensor is based on open-loop Fluxgate Technology developed by the experienced LEM Geneva R&D team to ensure the reduction in CO2 footprint.
Designed to ensure a high level of safety, the CDSR leakage current sensor provides a default detection output signal with a reaction time below 200µs. Combined with an independent test winding; this sensor enables manufacturers to optimize the electronic design of their charger products.
This CDSR offers a version for single-phase architecture and three-phase topology. With a maximum current per phase of 32A rms, the CDSR can be integrated into AC chargers from 3.7 kW to 22kW. The sensor operates from a +3.3VDC supply and has a typical current consumption of just 50 mA when measuring 150 mA as a maximum primary residual current. It provides an analog communication output and a Serial Peripheral Interface (SPI), enabling simple interfacing of hardware.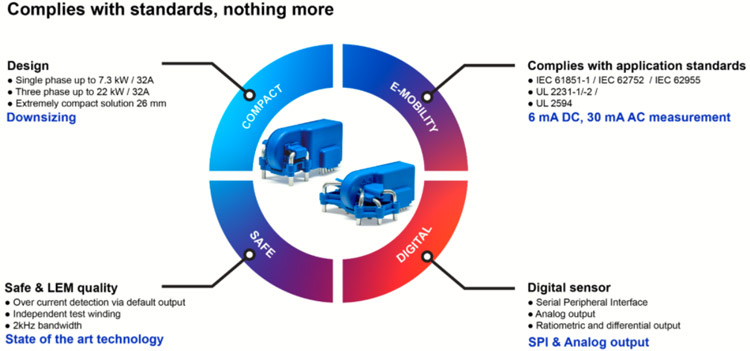 The ratio-metric behavior of the new CDSR enables it to resist power supply drift and maintain a stable output measurement. It can operate inside all EV chargers and has an operating temperature between -40°C to 85°C. Moreover, it can withstand acceleration forces up to 10G while maintaining nominal performance, and has a very high level of insulation between its primary and measurement circuits, thanks to long creepage and clearance distances (13.2 mm).