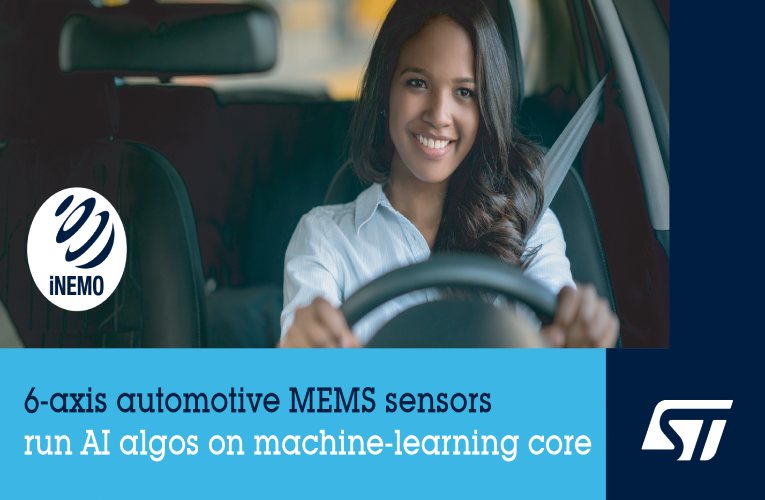 STMicroelectronics has announced the new ASM330LHHX inertial measurement unit (IMU) that moves smart driving another step closer to high levels of automation with its machine-learning (ML) core. The ML core enables fast real-time response and sophisticated functions with low system power demand. The automotive-qualified ASM330LHHX IMU houses a 3-axis accelerometer and 3-axis gyroscope in a 2.5mm x 3mm x 0.83mm outline and leverages micro-electro-mechanical systems (MEMS) technology.
This device has two operating modes including a low-power mode for running always-on applications like telematics, anti-theft systems, motion-activated functions, and vibration monitoring and compensation. When operated in low-power mode, the current is less than 800µA with both the accelerometer and gyroscope running. There is also a high-performance mode for applications that demand the highest accuracy and lowest latency, including precise positioning, vehicle-to-everything (V2X) communication, and impact detection and crash reconstruction.
Key Features
AEC-Q100 qualified
Extended temperature range from -40 to +105 °C
Embedded compensation for high stability over temperature
Android compliant
Accelerometer user-selectable full scale up to ±16 g
Extended gyroscope range from ±125 to ±4000 dps
Dual operating modes: high-performance and low-power mode
I²C, MIPI I3CSM, and SPI serial interfaces
Six-channel synchronized output to enhance accuracy of dead-reckoning algorithms
Programmable finite state machine
Machine learning core
Smart programmable interrupts
Embedded 3 KB FIFO available to underload host processor
ECOPACK, RoHS and "Green" compliant
Moreover, MEMS fabrication processes ensure excellent sensor stability and low noise, seen in low measured Allan variance (AVAR) for both the gyroscope and accelerometer. The module maintains consistent high accuracy over the extended operating temperature range, -40°C to 105°C. This AEC-Q100 qualified device is now in production, housed in a 14-lead land-grid array (LGA-14L) package, and pricing starts from $10.44 for orders of 1000 pieces.