Published
September 20, 2021
0
Conexio Technologies are ready to launch their new IoT development kit powered by a Nordic nRF9160 system in package (SiP) which features an ARM cortex M33 application processor. The device can be used for building cellular-connected electronic projects such as asset tracking applications, smart wearables, smart farming, weather monitoring, smart meter monitoring, etc. It supports LTE-M, GPS, NB-IoT and supports global range of LTE bands.  The device also comes with 250 SMS and half gigabyte of global data which is usable in over 100 countries with a validity of 10 years making it a fast and convenient tool to use right out of the box .
GPIOs and other Features for a Stand-alone Operation
The board features 26 mixed signal user programmable GPIOs for interfacing different sensors and actuators. The board has an inbuilt accelerometer, temperature and humidity sensor apart from the GPS and cellular connectivity, it also features Energy Harvesting circuitry with MPPT functionality capable of recharging Li-ion or NiMH batteries by connecting up to 7 solar cells with the device making it a complete stand-alone package in itself. The pin out diagram is given below.
The board also features 2 external U.FL antennas for GPS and LTE-M/NB-IoT connectivity, The external antenna makes it possible to weatherproof the device by enclosing it in a weatherproof box, only leaving the antennas outside. The stratus has a Micro-USB port for serial connectivity and 10 pin header for programming through J-Link and CMSIS-DAP. The OS on the board is Zephyr RTOS, and to make product development easier, Conexio has also developed an extension for Visual Studio Code and the company also promises to provide all the examples and VSC code extensions when the campaign starts in CrowdSupply.
Specification of Conexio Stratus
MCU:
Nordic nRF9160 Microcontroller with ARM Cortex M33
1 MB Flash
256 kB RAM
ARM® TrustZone®
ARM® Cryptocell 310
Up to 4x SPI, I2C, and UART with Easy DMA
I2S w/ EasyDMA
4x PWM with EasyDMA
12bit SADC with EasyDMA
2x RTC
PPI (Programmable peripheral interconnect) interface
Modem:
Transceiver and baseband
3GPP LTE release 13 Category M1 and NB1 compliant
3GPP release 14 NB2 compliant
GPS receiver (GPS L1 C/A supported) - Active antenna only.
RF Transceiver for global coverage supporting bands:
Cat-M1: B1, B2, B3, B4, B5, B8, B12, B13, B14, B17, B18, B19, B20, B25, B26, B28, B66
Cat-NB1/NB2: B1, B2, B3, B4, B5, B8, B12, B13, B17, B18, B20, B25, B26, B28, B66
Supports 4FF Nano SIM
Pre-programmed MCUBoot bootloader
Micro USB:
For USB-to-Serial, DFU, and application firmware programming and debugging plus LiPo battery charging
Energy Harvester IC:
AEM10941 solar energy harvester from E-peas Semiconductors
Vin: 50 mV to 5 V
Cold start: 3 μW @ 380 mV
Power input: 3 μW to 550 mW
Maximum power point tracking (MPPT)
Supports battery types Li-ion and NiMH
Max solar panels: up to 7 solar cells simultaneously
Board Power Supply:
3.3 V Buck/Boost up to 0.9 A of current draw
Operating range 2.8 to 5.5 V
External LiPo battery connection (2 Pin JST type)
Charge rate set to 300 mA with yellow LED indication
Maximum output current: 800 mA
Current consumption in low-power-mode: < 5 uA
Debugger & Programmer:
Supports J-Link and CMSIS-DAP based programmers
10-pin 0.05" (1.27 mm) pin connector
User I/O:
32 Standard GPIOs (0.1" pitch)
26 user-programmable GPIOs
2 x push buttons (1 Reset, 1 General Purpose connected to P0.12)
1 x user-programmable Green LED connected to D7 (P0.03)
Antenna Connections:
1 x U.FL for LTE-M/NB-IoT with matching network
1 x U.FL for active GPS antenna
Onboard Sensors:
Latest SHT4x temperature and humidity sensor from Sensirion
ST Microelectronics LIS2DH MEMS digital output motion sensor: ultra-low-power high-performance 3-axis Femto accelerometer
Power Switch:
SPDT slide switch for turning ON/OFF the power to the Stratus board
Physical:
50.8 mm x 22.86 mm (2.0" x 0.9")
Weight: ~5 grams.
Conexio Stratus Shield for easier connection
The company also has an add on Stratus shield for easing the interfacing of sensors and other peripherals with the Stratus module. The shield abates the need of soldering and reducing the number of wires required for interfacing sensors, actuators, or displays with the stratus. Thus, simplifying the connection process. The features of the Conexio Shield are:
1 x mikro BUS: add-on board standard from Mikroe, allowing connection to over 800+ click boards.
2 x Sparkfun Qwiic connector: SparkFun's Qwiic Connect System, allowing to connect over 100+ Qwiic products.
1 x Grove I2C connector: Grove is a modular, standardized connector prototyping system by Seeedstudio.
1 x 2 Pin JST connector for plugging the solar panel input.
1 x user-programmable LED
3.3 V operating voltage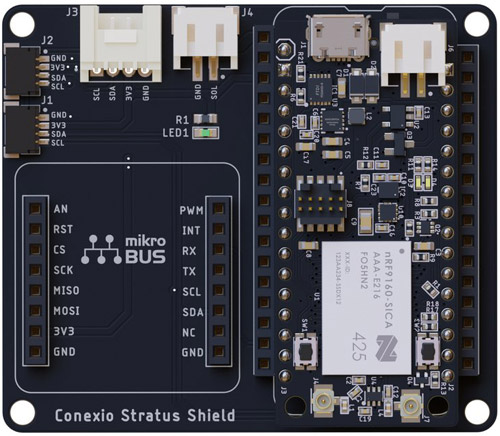 So, if you are interested in this board, you can check their website for more information. The project will soon go live on the Crowd Supply page to and opt for notifications about the campaign