Published
September 28, 2022
0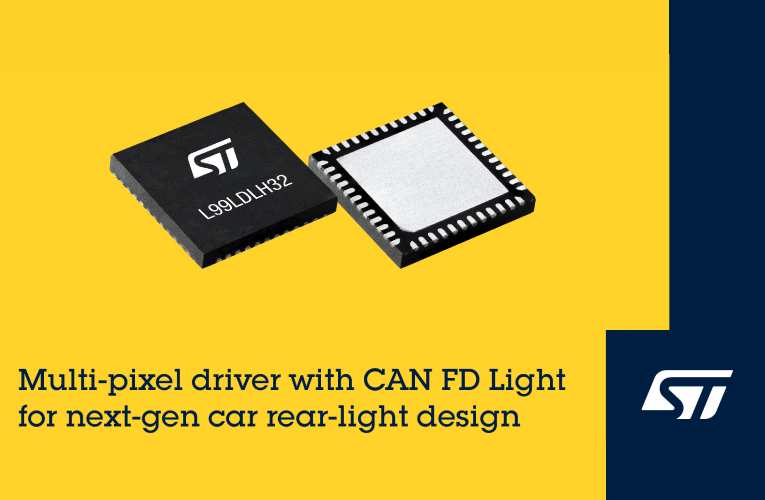 New linear current regulator L99LDLH32 from STMicroelectronics delivers a convenient, integrated solution for dynamic automotive lighting controlled using the lightweight CAN FD Light protocol. This regulator is ideal for use with OLED lamps that provide bright, homogeneous, and high-contrast lighting from a small surface area, the new driver lets designers produce complex light patterns and effects that enhance safety and styling.
With 32 regulated current sources, independently programmable from 1mA to 15mA, the L99LDLH32 regulator can drive individual pixels in external and interior lighting applications. Global dimming is also provided, with 8-bit resolution. While powered at the vehicle battery voltage, the driver produces outputs of up to 35V to cover a wide emitter forward-voltage spread. The integrated CAN FD Light protocol handler and transceiver simplify connection to the vehicle's communication infrastructure and controlling domain ECU (electronic control unit). 
It features the data bandwidth of 1Mbit/s which enables designers to create complex animated light patterns and permits smoothly modulated transitions and dimming. On-chip memory cells allow programming of parameters such as current level and PWM dimming for stand-alone operation, to provide a failsafe mode to cover malfunctioning of the communication bus or controller. Targeting roles including safety-critical lighting such as taillights, stoplights, and turn indicators, it provides features for a high level of functional safety.
Key Features
LED & OLED driver for up to 4096 pixels
CAN FD transceiver & CAN FD Light protocol handler
Precision oscillator for CAN synchronization
Innovative analog features for control and protection functions