Published
April 8, 2020
0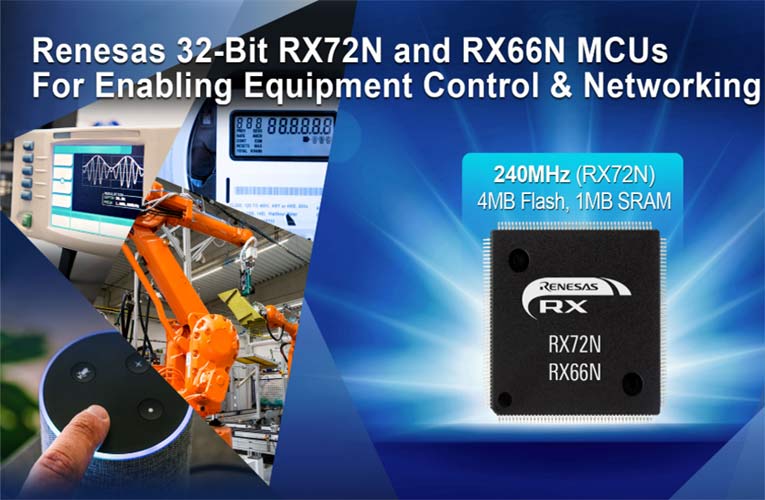 Renesas Electronics Corporation today announced the two new group of 32-bit microcontrollers, namely the RX72N Group and RX66N Group, these MCUs combines equipment control and networking function on a single chip. With the RXv3 CPU core, the RX72N operates at a maximum frequency of 240MHz with two Ethernet channels, and the RX66N operates at a maximum frequency of 120 MHz with one Ethernet channel.
The new RX72N and RX66N provides up to 4MB of on-chip flash memory that performs read operations at a frequency of 120MHz among the industry and has a 1MB of on-chip SRAM. They have pin count packages ranging up to 224 pins, including a maximum of 182 general-purpose input/output (GPIO) ports. The single-chip implementation of the device helps in reducing the component mounting area on the circuit board for the small form factor.
The ample on-chip memory of the devices eliminates the need for external memory, which has slower read speeds and makes it possible to extract the full performance capacity of the CPU. The large memory capacity of the device supports high-resolution graphics support, such as WVGA, on a single chip, which was not possible on earlier general-purpose MCUs. The Arithmetic unit for trigonometric functions (sin, cos, arctan, hypot; RX72N only) accelerates the motor vector control and a register bank save function of the devices decreases the interrupt response time.
The Trusted Secure IP module of the RX72N Group and RX66N Group provided as a security engine supports multiple encryption standards, including AES, 3DES, RSA, ECC, SHA and TRNG, and key management for securing firmware updating and secure boot function. The devices incorporate LCD controller, 2D drawing engine, and serial sound interface and support high-resolution displays - WVGA (800 × 480) at 8-bit colors or WQVGA (400 × 240) at 16-bit colors without the need for external memory.
The new MCUs can implement single-chip equipment control and networking functions to enhance the real-time performance of applications such as industrial robots, general-purpose inverters, programmable logic controllers(PLCs) and remote I/O devices.