Manu Madhusudanan is the CEO and Co-founder of an innovative technological healthcare company called Cooey. Started in April 2015 Cooey now operates in US, Japan, Singapore and India revolutionizing the ways how caretakers and patients recorded and monitored their health vitals by leveraging the power of IOT, machine to machine communication, Machine learning etc. Hailing from Kerala and currently residing in Bangalore Madhusudanan is a technology leader with over 14 years of senior management experience and also is a Start-up Evangelist and a Mentor. He has also Architected & developed Ad management system for Yahoo & Microsoft and has built an engineering team for NowFloats. Apart from this he has also won many awards for innovation and for Hackaday challenges.  We got a chance to put forward some questions to this intriguing personality and this is what he had to answer for us.
Why did you start Cooey? Do you have any personnel reason/experience to build Cooey?
Cooey was started after I had the first-hand experience of what many chronic patients go through in India.  At one point, My daughter caught pneumonia and I also noticed that my mother, who has high blood pressure, would note down her vitals on paper. As the healthcare sector requires highly accurate data, I felt that the whole process needed to be digitised, starting from the patients. So we tried to conceptualise a solution for the recurring needs of patients.
After market research and speaking to doctors and patients, we launched Cooey as a third platform, engaging patients on the health management system and providing targeted services to them.
The name "Cooey" sounds sweet, how did you arrive at this name?
"Cooey" is a peculiar cry uttered by the Australian aborigines as a call to attract attention, and also in common use among the Australian colonists.
You have stated that Cooey aims to be the Whatsapp of Healthcare industry, how do you intend to do it?
Cooey's vision is to use smart technology for high quality, high touch service enablement to provide enhanced long-term care requirements. Progressively, it intends to connect the dots between health care institutions with insurance companies and research organizations using real-time patient data and its analytics.The concept of constantly engaging patients with its "engagement module" is a first of its kind approach in health care space.
Cooey envisions that the above approach would address the future model hospitals which could have only ICU/CCU beds while the rest of the care would be delivered remotely with the aid of devices, data and day-care visits. The patient would adopt technologies using biomedical devices and stay connected to his/her care providers.
Did you face any technology barrier or limitation while developing Cooey? If yes how did you overcome it?
Cooey has gone through a lot, to bring out the best and to stand tall amid the ocean of different business venture and start-ups. The key challenges, as an organization, we faced in the initial stage include cultural fit, especially between Singapore requirements and the US requirements and along with regulatory compliances, and telecommunication infrastructure.
Additionally, there was lack of professionals with right skill sets, high costs of analytics solutions and operational gaps between the stakeholders are the major factors that are hindering the progress of adoption of analytics. Cooey achieves its "One-Stop Solution" for capturing, storage, retrieval, processing, and data analytics services, through constant engagement and continued support system.
Initially how did Cooey get off the ground? Did you have investors or crowd funding?
We have raised funds from angels investors.
Cooey also operates in US, Japan, Singapore and India. Which country seems to have welcomed and adopted Cooey easily? Where does India stand in the list and why?
The platform suits any healthcare provider who would like to manage and monitor the recurrent needs of a patient health either remotely or in a facility.
Our typical customer profiles are a) Diabetes Management Company b) Cardiac Care Company c) Rehabilitation & Therapy Company and d) Home Health Agency
India is fast becoming a test bed for technology companies to perfect software solutions that they sell to health care providers in other geographies, especially in the United States, where a new health law has spurred demand for such services. The relaxed regulatory framework in India coupled with the willingness of large healthcare providers / hospital chains to experiment has provided the opportunity to iron out wrinkles under real-life conditions. Some areas of thrust are digitization of records and remote management of patients.
Cooey also has its own voice assistant called Maya, how was it built and how will it add value to Cooey?
Cooey stands out with its smart voice assistant 'Maya', which simplifies routine health monitoring tasks with simple voice commands. And there is Alexa skills incorporated for bed-side assistance as well.
With the number of installed internet of things (IoT) device units set to go past 26 billion by 2020, machine-to-machine interaction too is going to be dominated by voice. And that's what Maya brings to the table! Your voice-controlled personal assistant with a difference.
Maya simplifies routine health monitoring tasks with simple voice commands. Voice interfaces allow its users to ask questions and receive answers through a natural dialogue. Maya's functions are available to use with any device, at any time, to interact with any application. With machine learning and cognitive systems as the driving force behind this technology, it's impact in future applications can be colossal in the days to come.
With Maya around, probably, there is much more you can accomplish to support them and help them enjoy a good quality of life.
Maya empowers you with full device control in addition to using the functions in your installed applications. You need not launch a separate application to execute your voice commands. Maya wakes up to help you as you see fit, no matter where you are, what you do… and she gets the job done for you with simple voice commands.
The ability to get you answers for your routine day to day requests, especially as an elderly patient without using the traditional input methods, have made patient monitoring far too simpler and become effective means to foster strong patient-physician relationship.
How has Cooey improved its consumer's life?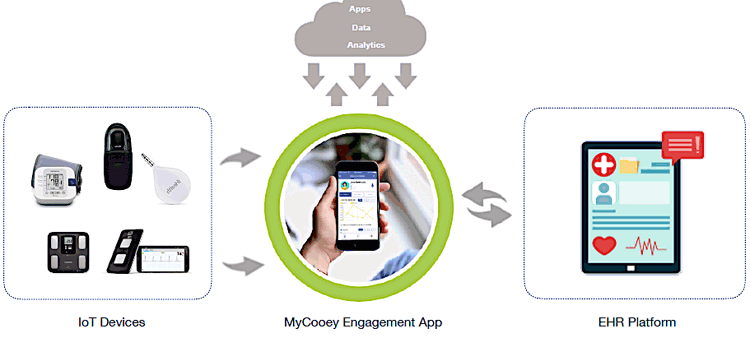 Being chronically ill can be embarrassing! Day in and day out, we do see our near and dear ones go through the painful process of logging their health vitals. It can add to the worries if you are someone who stays away from them and you realize they have done so much to take care of you and support you.
For a start-up like Cooey, which was the hardest part? Getting the product to be functional or getting it to the market?
Both has its own share. Dedication, teamwork and workplace synergy is the only way to stand tall amid crucial competition.
Being a CEO/founder of a company where do you spend most of the time in your company?
Product design & development.
Tell us about your team and how you built it?
Our team profile has a combined TEAM work experience of about 150 years. Combined work experience of 55 years in the US health sector. Technologists have worked in products like
Bing, Yahoo.
You have also stated yourself as a Start-up Evangelist and a Mentor. What kinds of start-up idea will you be interested in and how can people with the same approach you?
The goal of our organization is to hit that ground and to come up with the best medical support to the every Indian as per the requirement without being blindly and solely dependent on hospitals. Cooey is working relentlessly to achieve the rank to be the forerunner of healthcare revolution.
In the next couple of years, we will be investing heavily on AI & Machine learning. We believe in constant engagement and continued support system.
You have done your graduation in Kerala and currently residing in Bangalore, what are your views on both the places.
Both places have its own advantages. Bangloreans are gentle hearted and they accept every one coming to their land. You will be introduced to a whole lot of people from every race and ethnicity. Bengaluru is growing rapidly and it has a great heart for people from various diaspora. So don't be surprised if your next door neighbour is Manipuri, Punjabi, Tamilian, Malayalee or even from Japan. It might be a little cramped but there is a place for everybody here.
What according to you are some major breakthroughs that are yet to be achieved in Medical field using the advancing technology?
Smart phones are becoming an integral part of information exchange and intuitive mobile applications are becoming enabler for them. The use case could vary from everything from pedometers to measure how far you walk, to calorie counters to help you plan your diet, medication regimen that you follow, care advices that you receive. Millions of us are now using mobile technology to help us try and live healthier lifestyles. Today, you are empowered to share this information with your doctor who will further use it as decision support when you visit them for your healthcare needs. This is going to be path breaking, often by partnerships between medical and data professionals, with the potential to identify problems before they happen.
What is the current scenario of Healthcare in India? What can be done to improve it?
A lot needs to be done in terms of standardizing treatment methodologies. In urban and rural India, a standardized patient study showed low levels of provider training and huge quality gaps when it comes to quality of care delivered by private and public providers of primary health care services. Big data adoption will be gradual, beginning with early adopters and then to mass market. But there is no doubt that the field of health data analytics is one whose time has come and will create immense value to the entire ecosystem in the next decade.
Healthcare cost in India is increasing at 20% every year. Add to that, there is a shortage of 1.5 million doctors and 2 million Hospital beds. For hospitals, healthcare analytics can impact multiple areas from customer acquisition to operational efficiency to clinical delivery. It can be the backbone of marketing teams to target and retain the right type of customers, help operations teams understand where the hospital truly excels in and where it needs to work on to achieve high-cost efficiencies. Unlike many software products that are essentially just data repositories and workflow managers, data analytics can enable a doctor to create a better outcome for the patient.
How do you see Cooey in next three years?
Cooey feels the following are the top reasons for it to grow in the next 3 years:
It is in a niche area of remote monitoring of health vitals and information that is calling for technology adoption.
Chronic disease management companies, assisted & senior living communities, in-home care facilities, long term care & accountable care organizations are the areas that merits technology adoption with respect to remote monitoring opportunities.
Ability to interface with external systems and devices. Cooey would project an image that how data analytics can transform every individual and health care organization resulting in benefits to the user.
Cooey approach is a "Service-by-design" which by default will attract repeat business.
As a Mentor what would be your mantra for aspiring young Technopreneurs?
Dedication, teamwork and workplace synergy.