With the ever-increasing population, there is a rising need to grow organic food, and making optimum utilization of places like balconies in high-rise societies is becoming vital. The agriculture sector too needs to be digitalized. Farmers today are facing various problems like there is a lack of a proper irrigation system that ensures the water is distributed equally to the entire farming area. Moreover, farmers are not much aware of how soil moisture, pH, temperature, humidity, and light data can help them enhance productivity. 
Mr. Ashish Kushwaha who is the Founder & CEO of FarmingForAll understood the issue and wanted to make optimum utilization of his expertise in industrial automation to bring about digitalization in the agriculture sector and promote organic farming. His company develops smart irrigation controller system which can be easily operated with their mobile and web application. The use of sensors and technologies like the Internet of Things, cloud, Artificial Intelligence, wireless, Bluetooth make the solution fast and reliable. In the quest to know more about the company, the products being developed, and how these devices aim to help solve the farming issues, we sat down with Mr. Ashish and asked him a few questions. Here's the entire conversation, we had with him.
Q. Tell us about FarmingForAll, what inspired you to drift from an IT industry and get into IoT based Smart Farming?
I've been working in the IT industry for the last 14 years and I was working on designing and developing enterprise solutions as well as industrial automation. Simultaneously, I was thinking of ways to start my venture but I was inclined towards making some products with industrial automation. So, I thought of looking around and finding the problem that I can solve with my creative ideas and technical experience. 
The population is increasing at a great pace and agricultural lands are reducing. Besides, the number of high-rise societies is increasing. This has somewhat reduced the space available for growing plants. I am living in a high-rise society and have been facing problems in growing plants. So, I thought of making use of the balconies of the apartments for the kitchen garden. It was then that I came up with the idea of automating the system that will help out in irrigation as well as in making a kitchen garden that can be automated. Also, I thought of enabling people to grow organic food with the automation system so that when a person goes out of the house, he/she should be able to check the status reports like availability of water for plants on the mobile phone itself. IoT systems have logistic issues and automation is a bit challenging. Having expertise in the area, I thought of implementing my experience and bringing about change.
Q. Currently we can see two products under FarmingforAll, one is a GSM-based Smart Controller and the other is Smart Data Collector. How do these two devices work and what problems do these solve? 
After doing a lot of research in the agriculture domain and conducting a survey to know the problem areas from farmers in six states i.e. Uttar Pradesh, Haryana, Delhi, Karnataka, Madhya Pradesh, Maharashtra, we designed the two devices. We got connected with 500+ farmers in around three to four months and collected the data.
"The two devices from our company, the Smart Controller and Smart Data collector aim to solve the real-life problems being faced by the farmers. The smart controller is a portable device that controls the water motor on demand. This can be done through the mobile application. This device comes with a plug behind making it work as a stabilizer. It is a multi-purpose controller, which means users can put any device up to power compression of one horsepower and onboard this controller into their device by using a mobile application.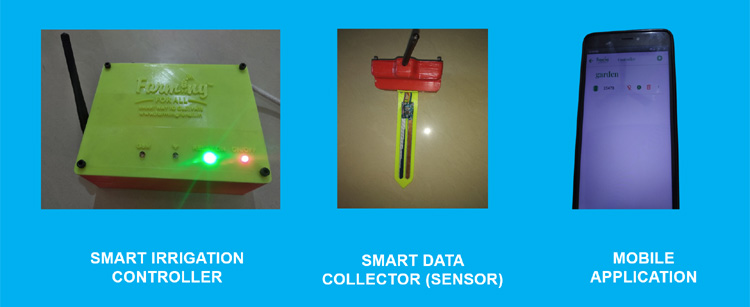 Also, there is a scheduling option available to create the schedule for the controller, and we are using two communication mediums, WiFi (for residential societies, greenhouses) and GSM connectivity (for rural areas where 2G network is available). To interact with the cloud application, the data controller requires an internet connection either Wi-Fi or GSM. 
The controller communicates with the data collector and it can connect with up to a hundred data collectors, which act as the gateway and is responsible for integration with the data collector as well as for sending data to the back-end cloud application. One device can be placed where there is GSM/Wi-Fi. The data collector can be inserted into a farming field. Even if you put the device into a mountain or hilly area where there is no network, then also it will be able to work because it is not using any other network. It is using just the radio frequency which is being created by the controller. There is a unique radio-frequency for each device.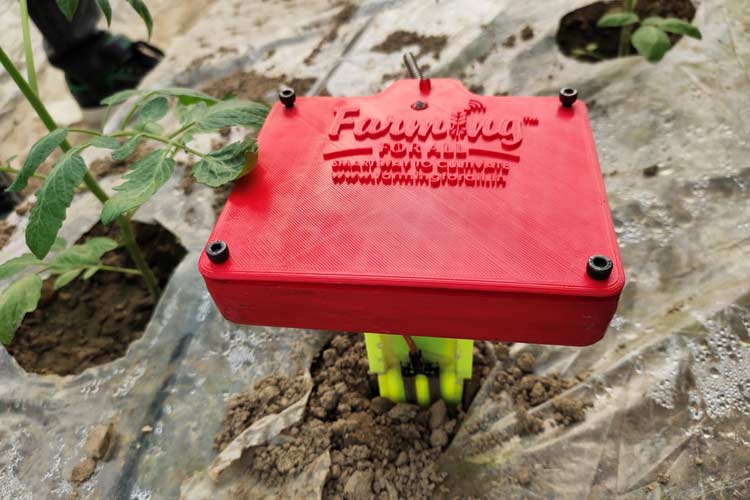 The data collector is waterproof and can be connected easily through electricity, solar power, or batteries. This data collector is equipped with five smart sensors (pH sensor, soil moisture sensor, temperature sensor, humidity sensor, and light sensor). These sensors send the data to the farming land every 10 minutes or whatever time period the user configures like 10 seconds or one hour depending on the agriculture and the land that is being used. This configuration can be done with the mobile application and it will use long-range radio frequency to communicate with the server. This device sends data to the controller and the controller processes the data and sends it to the background application and that data can be checked on the mobile application."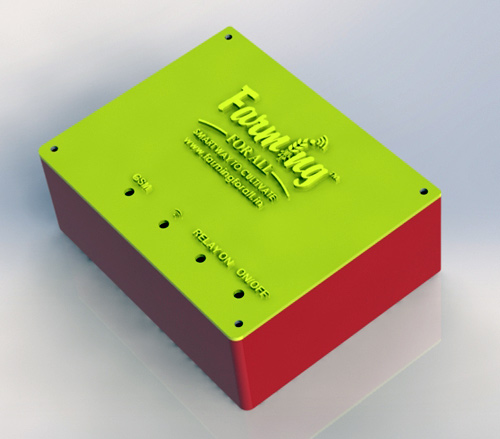 Q. How many such smart data collectors should be deployed in a field? Will you be deploying it for every hundred meters or what is the scenario?
To utilize this system, we have some pre-conditions because whenever we have to design a device, we have to define the boundary of the system as well. The precondition of the system is that we need drip irrigation. It is suitable for greenhouse, open area farming fields as well as vertical gardening and kitchen gardens. Drip irrigation is important because we are using sensors and these devices are costly. Drip irrigation will help us to distribute the water to every corner of the field equally. That means, if we get the data from one place, we can assume that the same amount of water and humidity levels are there at other places as well. So, for up to one acre of land, we suggest one controller and four data collectors to be used. 
The pH is not something which can be easily changed, it takes time. While on the other hand, we can capture temperature and humidity data and predict the sunlight that is required. For soil moisture, we have to ensure that every area of land should get an equal amount of water through the drip irrigation method.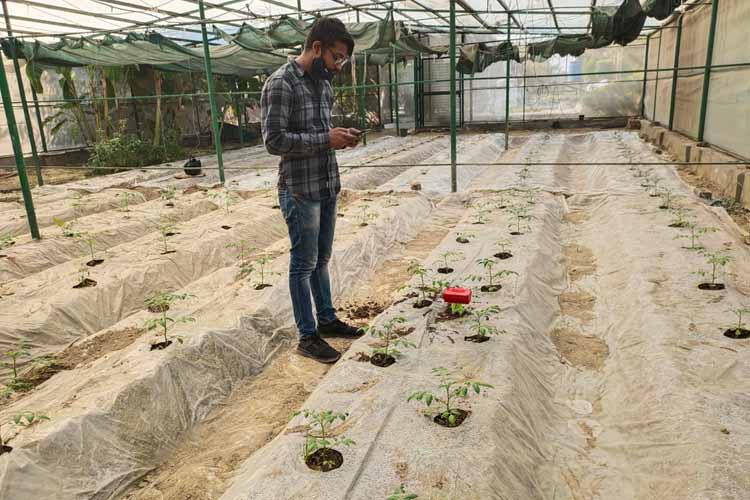 Q. How practical is Smart Farming for small or medium-scale farmers? What kind of impact can it bring and do you have any case study to support your claims?
Recently, we have done a tie-up with the School of Agricultural Sciences, Sharda University and Dr. H.S. Gaur is mentoring this pilot run. We have set up a pilot run in a greenhouse that is situated in Greater Noida at Sharda University. Currently, we are doing three weeks of pilot run. These devices have been deployed in their greenhouse. We are using cherry tomatoes and we have divided the greenhouse into two parts, one is integrated with the smart devices from our company, and in the other part, the traditional irrigation system is used. We will be capturing one-month data. We took two weeks for setting up the greenhouse and four weeks for testing the data digitally. We are expecting to get the publisher report by this month or by January. Nobody can capture these scientific facts like the greenhouse environment like pH values, soil moisture data, etc., which our company is working on. The School of Agriculture Science, Sharda University is validating each and everything. We are also using the traditional method to collect the data and we will be comparing it with the data captured by our devices to get a clear idea if these devices are producing accurate results or not.
Q. You have surveyed to see if this product has a demand and you've done a certain level of validation for your product. What have been your major findings so far? What results surprised you and gave you promises that this has a huge demand in the market?
"In the farming sector, there are many problem areas that need to be addressed. The very first concern is the high cost of fertilizers. With the scientific facts and data that these devices provide, we are trying to help farmers increase their productivity and cut down their expenditure. Saving water and electricity, utilizing solar energies, and reducing the use of fertilizers can help in increasing productivity by 20% - 30%.
Other than this, we noticed that one of the problems that the farmers are facing is that they are not able to sell their product to the good corporate. We are planning to provide a market platform for the farmers. Along with this, we aim to solve a lot of problems like cold storage. This is our long term plan and we will be working on it in phases. In the very first phase, we want to work on the digitalization of the farming land and getting the real facts so that the farmers can have the real data like soil moisture temperature, network resistance, etc. on their mobile application. Besides, they can refer to past data for comparison. This historical data of farming will prove useful for research and analysis purposes as well. 
In the future, we will be introducing more sensors like carbon dioxide, NPK sensors, nitrogen, phosphorus, potassium, sensors. This is a multi-purpose platform. Since I have industry automation experience, I have tried to develop a platform that can be used in vertical farming and house farming as well. The platform is already established. Next, we plan to introduce more sensors and my research team is already working on the same. We are also trying to onboard our new long durable sensor that can be used for industrial purposes."
Q. What are some of the key challenges to be addressed when developing an IoT solution for the farming sector? What kind of difficulties did FarmingForAll face in the initial stages? 
This is an R&D-based project, so we invested a lot of time in the research. This is a new domain for me and I also researched a lot about smart farming, precision farming and learned a lot. As far as the right resources are concerned, there is a skill set that is required. It is a research-based work and finding the research people is also tough. When we wanted to start POC, due to the COVID- 19 pandemic, the scenario changed and we faced challenges. We were not able to get the sensors from March till June 2020. This problem had to be solved, so I sat down with my entire team and decided to develop a back-end application that is a completely IT-based solution, and thereafter, we started working on POC. 
Another challenge we faced was in the integration. To overcome this, we worked on a complete back-end application that is completely cloud-based and we can handle any number of users in our system because we have used microservices, the best practices for developing our software application. As far as IoT is concerned, different sensors have to interact and the data has to be given back. 
Manufacturing and fabrication of the devices was the most challenging part. The device that we have is a complete prototype device that is the 3d-printed model and the device which we are using in industries is a commercial device that will be available will IP 65 that means it is waterproof and dustproof and we have a different device for the steel. By next week, devices will be ready. All in all, the development of devices and data are the challenges that we faced during the lockdown.  
Q. There are two main technical difficulties in designing and deploying an IoT-based farming solution. One is keeping it powered for longer durations on the field and the other is utilizing low power long-distance connectivity. How has FarmingForAll addressed this issue?
"The system that we have designed is best suited for the remote location where no help is available. The data connector uses a high power battery and can be charged with solar power too. But the controller does not have any power battery. It is equipped with one socket connection, which you can plug-in and uses or else you can make use of solar power too. As of now, the battery we are using can run for 15 days without charging. Alternatively, solar power can be used and there is no need of charging the device. You can check the battery level status in your mobile application."
Q. At present, you have finalized your prototype and are stepping into manufacturing the units. What is FarmingForAll currently working on and what are your plans for the future?
As part of a manufacturer, we have already finalized different partners who are helping us in manufacturing. The actual controller is an industrial-based IP 65 box that is waterproof and dustproof. It's a complete portable controller. The data collector too has been manufactured. We have started testing these actual products and trying to get feedback. Moving on, we plan to set up a manufacturing unit so that we can manufacture these devices on a larger scale based on requirements.
Q. When you moved from the prototype stage to the production stage, what are the major challenges you faced? How did you manage to find the right vendors and outsource the manufacturing temporarily?
It's a big problem and till now, I have changed three vendors. To overcome the problem, we plan to enter into manufacturing. That's the reason I have set up the research team which is headed by Dr. Amit Sehgal who has 20 years of research experience in electronics and wireless communication. He has done a Ph.D. in wireless communication.
The first design which we got from the vendor took one month for designing, and when we used to it, we found many logistic issues and the device was also not working properly. So, we had to change the vendor. Similarly, we faced issues with the second vendor too. The third vendor helped us develop the right kind of devices. So definitely finding the right sources is tough. Besides, there are different contract and legal issues that we have to face. Thankfully, we have overcome these issues, as we have found the right vendor.
Q. How do you see smart farming in India? Are we ready for it? Are there any big players who have already utilized IoT based Farming Solutions in India?
COVID-19 pandemic has changed the scenario and automation scope has increased. The factories require labor but they have shifted to different places and haven't yet returned. In coming times skilled laborers will be required and heavy machines will be required to overcome the losses caused by the lockdown. Automation will play a vital role. The population of our country is continuously increasing, so we need to consume whatever we have; we have the balconies that we can use to make our kitchen garden, set up our automation system, and grow our food. Even the societies at large can take make use of the infrastructure and grow organic food. We just need to change the mindset that might take some time, but it is required. We need to educate the people and make them understand the current and future scenarios.