Here's something interesting for the inner romantics and DIY circuit board assemblers among us. Yes, I'm talking to you, my friend; soldering iron in one hand, PCB board in the other, pining to tell your cherished special person how you feel about them, but clueless about how to express yourself. Sure, you could just tell them "I love you" — but words are nearly as cheap as fiberglass substrate and copper foil. Fine then, write them a card... but where's the pizzaz in that?!
One romance-loving user of EasyEDA, a web-based electronic circuit design tool that lets people build and order customized PCB boards, has given us the Merry Me, a printed circuit board that, with 35 LEDs and a CR1220 battery, expresses your love like it's never been expressed before.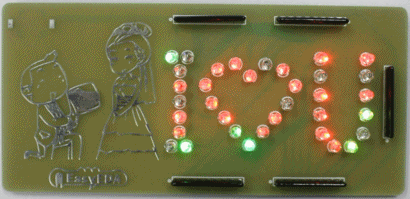 Using circuit boards for things other than computer and electronic components isn't new. Artists, designers, and hobbyists have been using circuit boards as mediums for years. Like Masahiko Shindo, who made this working radio with a circuit board designed in the shape of the London Underground subway system for the Design Museum in London in 2012.
Others repurpose discarded circuitry in cool and unique ways, like this insect sculpture made by artist Julie Alice Chappell.
Or the Binary Low Table from BRC Designs:
Or this circuitry sculpture made by artist and documentarian Theo Kamecke.
Have you ever tried to design such a romantic PCB for your lover or an interesting PCB for your children or friends on special day? Why not? PCB also could be an amazing gift which reveals your creativity and hones your PCB skills.
Here I'd like to share the first one Marry Me PCB designed using EasyEDA. It is a free, web-based and easy-to-use EDA tool integrating powerful circuit design, mixed-mode circuit simulator and PCB design.It is developed to give engineers, students and hobbyists an Easier EDA Experience.
This romantic LED board consists of 35 Flash LEDs and a CR1220 battery cell and of course some resistors to limit the flow of current. Since this circuit is no more than 35 LED's and resistor arrays even beginners can try this PCB out and make a beautiful gift.
The Merry Me PCB CIRCUIT DIAGRAM:
This is the circuit diagram of this Romantic PCB as you can see there is nothing more than LED's and current limiting resistors. I have used Resistor array packages in my circuit for making it simple and keep the space minimal.
Once you finish your circuit, run your design and see if you get any errors. Save your project and your schematic is done now.  You can access the schematic diagram of this romantic PCB through this link
CONVERTING YOUR SCHEMATIC TO PCB
Now you can click on the button Convert to PCB in the top menu to get the PCB version of your schematic. You will get a pre designed version of PCB, you can modify the layers, change the positions and tweaks you need to do. After doing this i have obtained a final output something like this.
I have placed the LED's placing in the pattern spelling that "I Love(heart) You". Cool isn't it? Now lets make this thing even cooler by adding a image of your choice to this PCB. To do this click the 'image' button in the PCB Tools menu on EasyEDA, and select an image in the new window of 'Insert Image to PCB'.
Also, you can use Color Tolerance or Simplify Level function to adjust your image.
After completing the above steps, you could press the button 'Insert Image to PCB', then you will see your image that have been already inserted to PCB. Finally your design will look something like this below.
Of course, you can change the layer you like and insert the image you like. If you decide to choose a new layer, you set the attributes using the pane located in right side of the workspace.
You can access the PCB design of this Romantic PCB board through this link 
If you want to gain this romantic PCB, you also could directly order it from EasyEDA. Just need to click "Fabrication Output" button then redirect to the page of "PCB order", fill in your details and you will get the PCB delivered directly.
Well it's impossible to finish the how to use tutorial in a single article. So here is a tutorial repository that will teach you to use this design platform more effectively. Hope you like this article do try EasyEDA, Happy Designing.